$10.5M gift supports efforts to prepare ethical technologists and policymakers for future challenges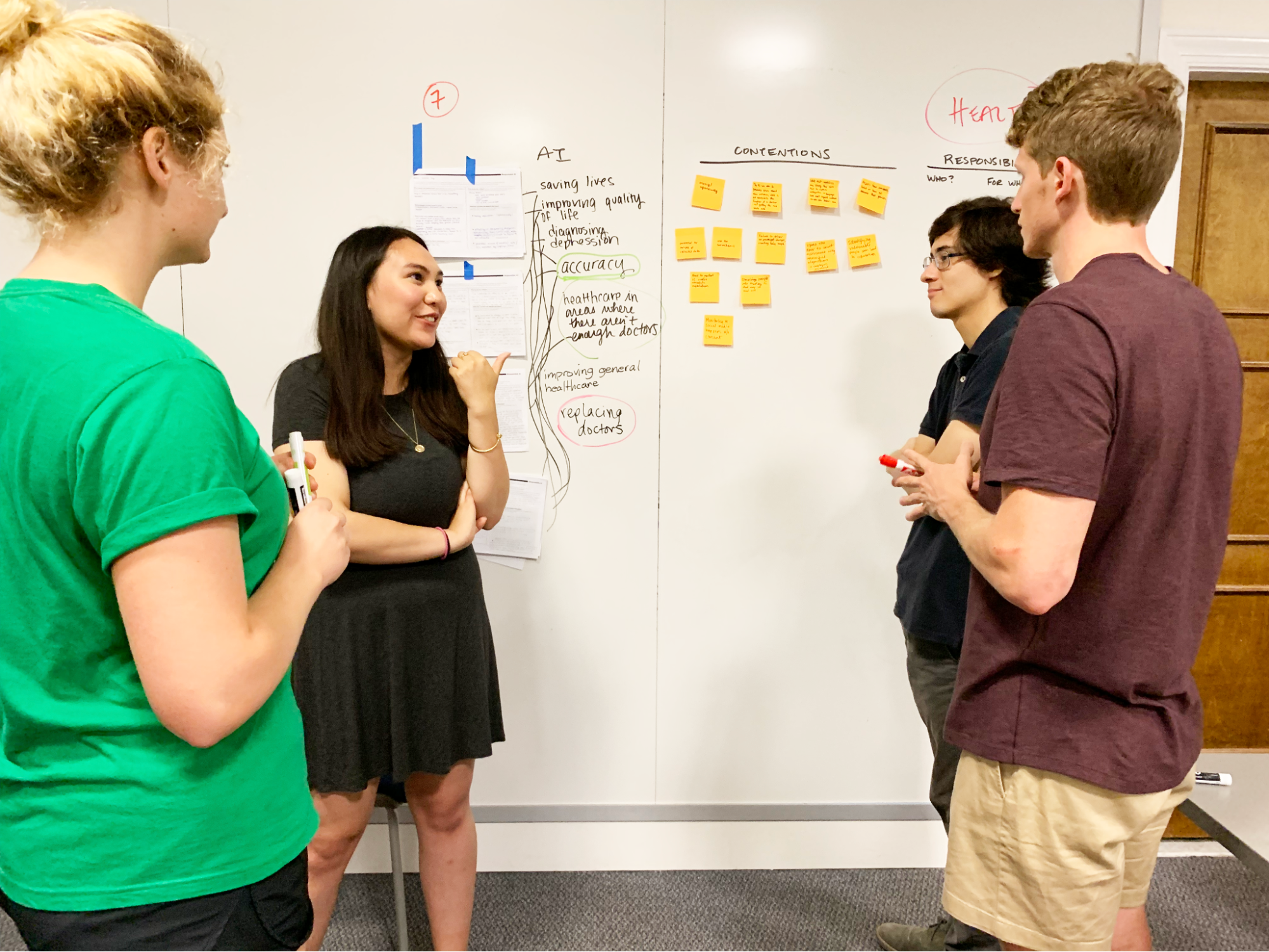 An alumna and her husband have made a $10.5 million gift to Georgetown University's Technology & Society Initiative and to fund an endowed scholarship. Their investment will establish the Technology, Ethics, & Society Chair in the College of Arts & Sciences; empower the Georgetown Ethics Lab to create programming and undergraduate courses focused on Technology, Ethics, & Society; and expand access to a Georgetown education through financial aid.
"Georgetown has a long and storied history of developing programs that will help undergraduates face the moral challenges of the world they will meet," says Professor Maggie Little, director of the Ethics Lab. "One of the biggest moral challenges they will meet is the way in which technology is revolutionizing society."
"I am deeply grateful to this family for their generosity, which will enable us to deepen the context for our students and our faculty to be at the forefront of conversations on technology and ethics," says Georgetown University President John J. DeGioia. "Their contribution will allow us to build on the strength of our Tech & Society Initiative and will have a lasting impact as we explore the role that technology can serve in advancing the common good."
Continuing the Georgetown tradition of ethics education
The donors were inspired by Georgetown's theology and philosophy courses, which help students develop academically and spiritually during their undergraduate years. They see a through-line from Georgetown's Problem of God course to the Kennedy Institute of Ethics to the Ethics Lab, each working in tandem to provide the next generation of students with a moral compass.
"Ethics has always had a place at the university. Georgetown has always worked for the common good and social justice is part of its Ignatian mission," says the alumna. "Georgetown has the roots to do this."
Provost Robert M. Groves agrees that Georgetown has the grounding to help future technologists, policymakers, and corporate leaders minimize harm and maximize social good.
"Georgetown is uniquely positioned to do this well," he says. "We are blessed by the existence of the Kennedy Institute of Ethics, the very fount of the creation of bioethics. We want to be a real hub in the world where practical ethics guides technological development and use."
Designing courses to unite innovation and responsibility
The gift devotes $500,000 to fund Ethics Lab as a convening, piloting, and design platform for the new undergraduate programs, including delivery of five courses that will count toward an undergraduate major and minor. Ethics Lab—which is a team of applied ethicists using design mindsets, as well as a physical ideation space in Healy Hall—designs project-based, analytical, and theoretical courses that explore issues surrounding bias in algorithms, AI and the future of work, social responsibility in computer science, justice in system design, and the intersections of democracy and technology.
"Technology is very powerful, and it is accelerating change," the alumna says. "I think this is our best hope of staying on top of it to have a positive impact on the world."
Little says that for the past four years, she has heard from faculty and students eager for such courses, and early offerings such as Social Media and Divided Democracy were always oversubscribed.
"I remember a computer science student in the Data Ethics course who told me, 'this should be a required class for everybody in computer science.' Those sorts of early signals of demand and passion led us to want to create the program."
The newly developed core courses will feed a major (Computer Science, Ethics, & Society) and a future interdisciplinary minor (Tech, Ethics, and Society).
"We want any student—from whatever walk of life—to more deeply understand the world that they're stepping into and have some moral tools to be able to deal with it," Little says.
Ethics Lab is holding separate discussions with current students, current parents, and alumni practitioners in technology development and policy fields to hear how they might want to participate in the undergraduate program. The program aspires to host discussions and connect students with networking and internship opportunities.
"This is an exciting development for alumni who are interested in the future of higher education, how we are helping to support students for jobs that don't exist yet, and how leaders with an ethical basis approach some of the world's problems," says Professor Soyica Colbert, interim dean of Georgetown College.
Fostering thought leadership for Technology & Society
The gift also provides $5 million to establish a Technology, Ethics, & Society Chair in the College of Arts & Sciences. The new chair will join two other appointments, created with other philanthropic funds, to form a graduate research unit.
"By having both education and research thematically consistent, Georgetown can attract our faculty and students in this domain in a way that other universities cannot," Provost Groves says.
The chair will advance Georgetown's Technology & Society Initiative by leading collaboration among scholars across the university. "We imagine that Technology & Society will be a hub where we mine the depth of our liberal arts education, having expertise in these areas across different departments and campuses," Colbert says.
The chair will also spearhead efforts to attract new faculty talent who value technology and society as part of a liberal arts education, and recognize the uniqueness of the opportunity to do this work in the nation's capital.
"We're excited about searching for world-class scholars who are interested in that combination," Colbert says. "The gift allows us to make use of the best of Georgetown: combining our depth in the sciences with our Jesuit heritage and doing more for the social good in our Washington, D.C., location."
Prioritizing equity of access
Recognizing that broadening access is the first step to developing the ethical technologists of the future, the donors are dedicating $5 million of their gift to an endowed scholarship fund. Colbert says the fund is emblematic of Georgetown College's commitment to providing financial aid and empowering student research.
"We've been working really hard to allow all of our undergraduates—no matter their socioeconomic background—to take full advantage of their education here," Colbert says. "That means offering debt relief and expanding the number of paid research opportunities so students don't have to choose between working a part-time job and experiencing a foundational part of their education. This gift directly supports that effort."
The gift also reflects the donors' longtime support of financial aid at Georgetown, Provost Groves notes.
"These donors have consistently supported Georgetown's effort to make its education accessible to the brightest young people in the world, regardless of their ability to pay the cost," he says. "This support stems from a deep belief that higher education is a vehicle for social mobility, unrivaled by any other experience that youth can have, and we are deeply grateful for their focus on increasing access to a Georgetown education."
This article was originally published by Georgetown Today. Please follow the link to read the full story.