2020 Provost's Innovation in Teaching Award Winners
The Provost's Innovation in Teaching Award recognizes a faculty member or faculty team who has used exceptional creativity in the use of innovative approaches to promote student-centered learning. This annual award is based on the demonstrated success of the innovation, as well as evidence of impact on students, colleagues, and the potential for wider adoption. The awards given this year were in three categories: Program Category, Individual Category and Career Achievement Category.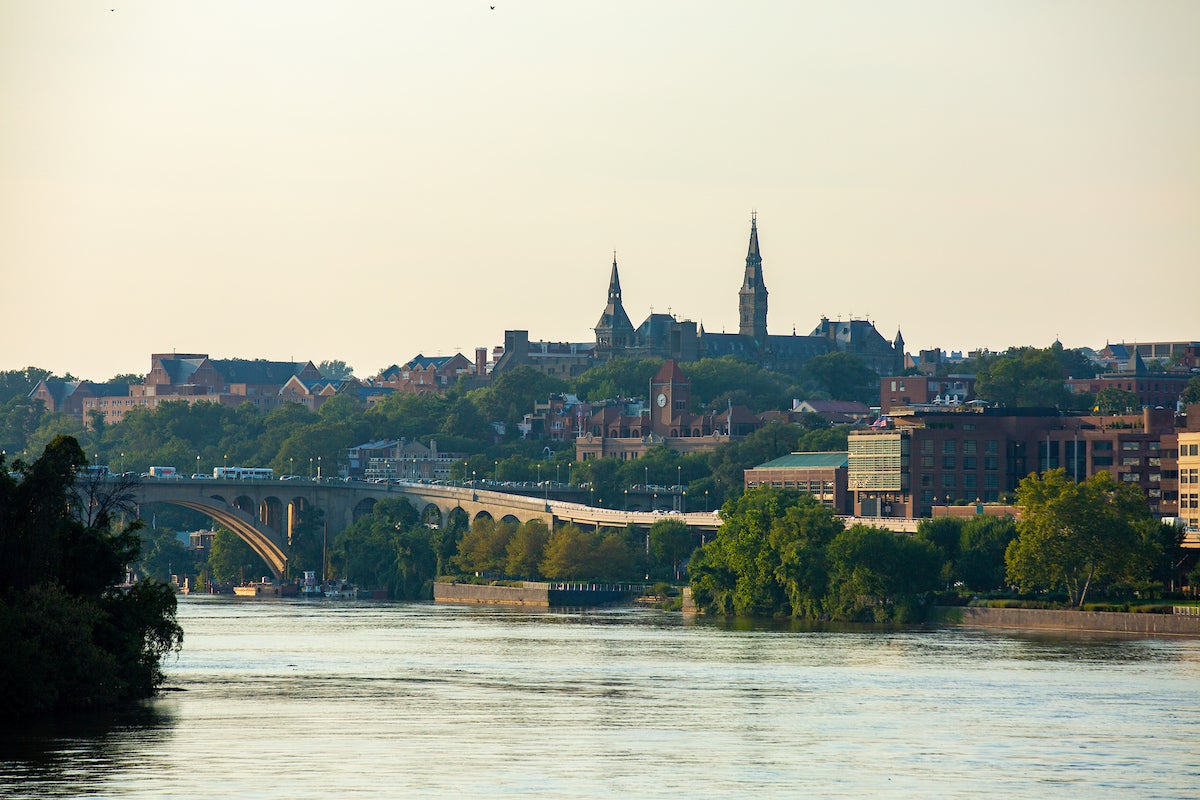 The Office of the Provost is pleased to announce the 2020 Provost's Innovation in Teaching Award Winners:
The Program Category Award: The English MA Program
Dr. Maggie Debelius, Teaching Professor, Department of English
Dr. Sherry Linkon, Professor, Department of English
Dr. Matthew Pavesich, Teaching Professor, Department of English
Margaret Debelius, Matthew Pavesich, and Sherry Linkon worked as a team within the Georgetown's Master's Program in English to develop an alternative to the thesis: a digital and/or public humanities capstone project. They worked together to hone a studio-based pedagogy that combines scholarly research, design thinking, and digital rhetoric. Substantive critique from peers, faculty, and experts from outside of the course helps students develop a clear intellectual foundation for their projects, design engaging and innovative projects, and move from envisioning to constructing high-quality finished products. The initiative serves as a laboratory for digital humanities, engaging students in new ways of both developing and communicating humanities research. It models integrative learning by combining literary research with research on digital forms, adaptation of rhetorical concepts to digital humanities, and hands-on work building complex, challenging, multifaceted projects that make expert knowledge useable and engaging. It adapts to the humanities teaching methods from studio-oriented fields, such as architecture and product design. It has succeeded with now over 30 successful projects completed and documented on the web.
---
Individual Category: Marc Howard
Dr. Marc Howard, Professor
Department of Government
Marc Howard in the Department of Government is the founder of three important initiatives. First, the Prison Reform Project, a 500-level course, performs original investigations into suspected wrongful conviction. The class works directly with the incarcerated individual. This is an innovative blending of life-experience and research-based learning. Marc also founded the Prisons and Justice Initiative, running programs within jails and prisons and organizing important events on campus. Finally, Marc was central in the launch of the Pivot Program, homed in the McDonough School of Business, which provides to returning citizens post-incarceration, courses in entrepreneurism, job skills, and internships. Professor Howard was given the award for his unique blend of effective communications about problems in US jails and prisons, constructing life-changing learning experiences for students, and providing real advances in social justice through his teaching.
---
Career Achievement Category: James Sandefur
Dr. James Sandefur, Professor Emeritus
Department of Mathematics and Statistics
James Sandefur in the Department of Mathematics received an Innovation in Teaching Award for decades of a single-minded focus to make learning mathematics more accessible to larger numbers of students. This has included students from grade school age children to university students. He has enlarged the breadth of his impact by disseminating the methods to grade schools and high school teachers. One of the approaches directly enhances mathematics understanding is to present practical problems that need a solution — theory motivated by application. His stature in this domain led to his membership in the National Council of Teachers of Mathematics' revision of guidance for the teaching of mathematics in K-12 classrooms. At the university level, he successfully renovated how the logic of proofs of theorems is taught. This work involved short videos, think-aloud techniques, and flipped classrooms.
---