5 Healy Fellows Who Took Unexpected Paths to Their Ph.D.
Every year, Georgetown's Graduate School of Arts and Sciences awards the Patrick Healy Graduate Fellowship to incoming graduate students who are pursuing their doctorate degree.
The fellowship program supports diverse, highly qualified graduate students who otherwise may be unable to attain their doctoral degree. The Healy Fellowship provides resources, a built-in community of fellows and financial support for up to five years of a fellow's Ph.D. track.
The fellowship is named in honor of Georgetown's 28th president Patrick Healy, the first African American to earn a doctoral degree and the first African American president of Georgetown University. Healy transformed the university from a small liberal arts college into a modern university, and the fellowship is intended to carry on his legacy of training diverse future faculty, researchers and leaders who will advance knowledge across disciplines.
"The Healy Fellows are selected by a multidisciplinary faculty review committee through a rigorous review process," says Alexander Sens, dean of the Graduate School of Arts & Sciences. "We are deeply proud of our Healy Fellows and of their many contributions to our community, and we are excited about following their careers as transformative scholars and leaders in the years to come."
Among this year's talented Healy Fellows are students who represent a diversity of experiences, careers, backgrounds and identities: a Baptist minister and prison reform advocate, a political science changemaker, a biologist-turned-Spanish-linguist, a philosopher and a Catholic historian.
Learn more about their path to the Ph.D., their individual research and how the Patrick Healy Graduate Fellowship is helping to advance their personal and professional goals.
Formerly Incarcerated Ph.D. Student Expands Higher Education in Prison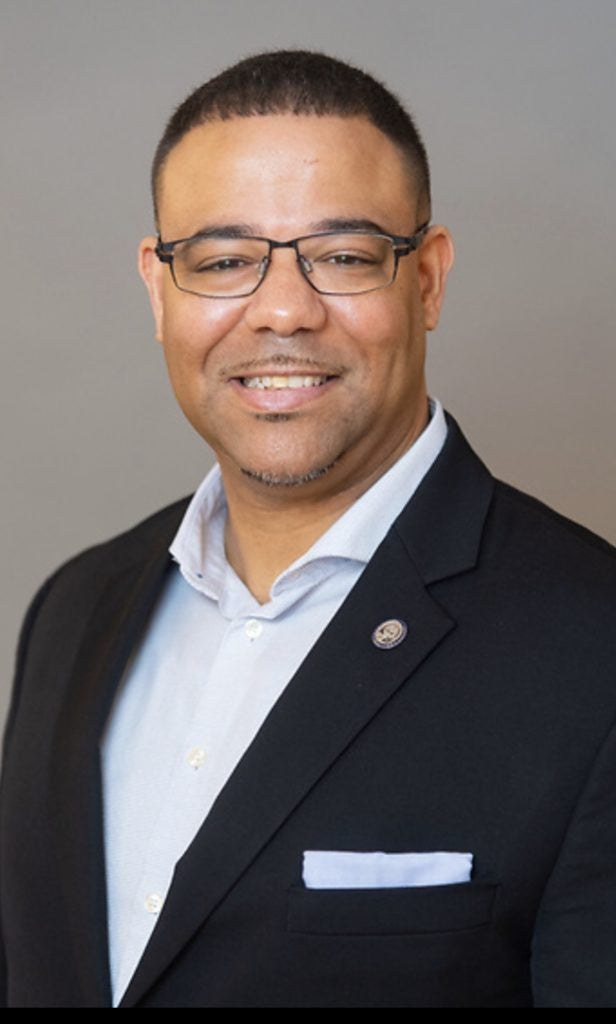 George Chochos (G'25) is a Baptist preacher who is pursuing a Ph.D. in theological and religious studies at Georgetown. He is also the first formerly incarcerated student to participate in the Healy Fellowship.
While in prison, Chochos earned an associate's and bachelor's degree as well as a master's in urban ministry. After he was released early from his sentence, he felt called to help incarcerated men and women pursue higher education opportunities, too.
"I found the will to dream in a nightmare," he says. "Engaging with all those academic texts gave me a whole new world. I hope I can make a positive difference for others now through education."
After his release, Chochos became licensed as a Baptist minister; received two master's degrees from the Yale Divinity School; served as the program manager for Georgetown's Pivot Program, which provides formerly incarcerated individuals with leadership and professional development opportunities; taught a Christian theology course in a DC jail through Georgetown; and successfully lobbied and gained bipartisan support for Federal Pell Grants for incarcerated students.
"I found the will to dream in a nightmare."

George Chochos (G'25)
Eager to continue his education and teach in a higher education prison program, Chochos applied to Georgetown's Ph.D. program and was offered the Patrick Healy Graduate Fellowship. The fellowship, he says, has been particularly helpful during a time of family illness and financial hardship during COVID-19.
During the first year of his Healy Fellowship, Chochos is examining insights from Christian and Islamic liberation theology that shed light on the criminal justice system and on access to higher education in prison. He also hopes to run and teach a higher education prison program after graduating.
"I want to bring that hope, vision and capacity for people to envision a seemingly impossible future," he says. "That's what the Healy Fellowship has helped me to do. I'm just happy that I could be the first formerly incarcerated Healy Fellow. I hope I'm not the last."
A Changemaker in the Classroom and in DC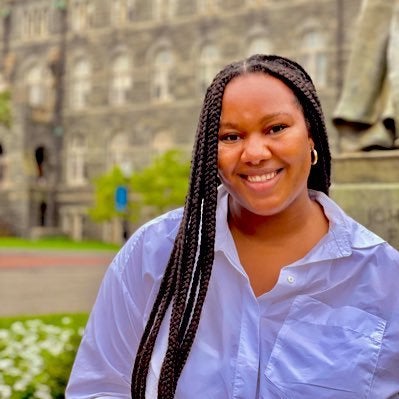 Sarah Hayes (G'26) is a first-generation college student who started her journey to Georgetown attending community college in Fresno, California. She transferred to California State University, Fresno, where she received a bachelor's degree in psychology and was named a McNair Scholar, a scholarship program that prepares undergraduate students for doctoral studies.
Hayes completed her master's in political science at University of California, Riverside, and wanted to further her studies and her career through Georgetown's Ph.D. program in government. During a break between classes one day, she learned she had been selected for Georgetown's Patrick Healy Graduate Fellowship, news that brought "an additional level of ease knowing that I was going to have support to be able to focus on my studies," she says.
The fellowship also offered her summer research support, which, Hayes says, demonstrated a more holistic and realistic approach to academic life as a doctoral student — and relieved the pressure to find that support externally. The built-in community with other Healy Fellows was also important for Hayes, who felt that having the support of others like her provided a network to confide in and build relationships from the start.
"My biggest regret was thinking that it took a certain person to be an academic and that pushed my journey too far into the future of getting started. If you're considering it, you're more than likely qualified."

Sarah Hayes (G'26)
On the Hilltop, Hayes is exploring her research interests in political engagement, identity and the political behavior of Black women — an interest influenced, in part, by Hayes' upbringing in a Black church.
"Whether that be Black women in the mass public or Black women political elites, my research is on how they orient themselves toward politics, how their political behavior might differ from other groups and how racial and gender stereotypes may impact their behavior," she says.
In her research, Hayes hopes to contribute a fresh perspective to the Georgetown community and DC political landscape, particularly in engaging the local community, encouraging voting and understanding how stereotypes about groups impact politics. For Hayes, living in Washington, DC, and being surrounded by changemakers motivates her to translate what she's learning in the classroom to the public to ensure that "knowledge is not kept within the ivory tower but is accessible to all."
After graduation, Hayes hopes to find a middle ground between academia as a professor and a role rooted in the community through a nonprofit or research firm.
"My biggest regret was thinking that it took a certain person to be an academic and that pushed my journey too far into the future of getting started,"she says. "If you're considering it, you're more than likely qualified."
A Passion for Linguistics in the Biology Lab
Daniel Stewart (G'26) first learned he had been accepted to Georgetown's Ph.D. program in Spanish linguistics while performing an experiment in a biology lab. He checked his phone and saw the acceptance email.
"I felt like I messed up the sample, but I was just so happy," he says. "I was on cloud nine."
Stewart had double-majored in Latin American, Latino and Iberian studies and biochemistry and molecular biology at the University of Richmond. After graduation, he taught English in a small town outside Valencia, Spain. He was drawn toward linguistics and a career in academia while working in a structural biology lab at the National Institute of Environmental Health Sciences, and applied to Georgetown for its sense of community, diverse opportunities in linguistics and encouragement from current students. Stewart says he felt imposter syndrome fears in applying, believing he had less linguistics experience than other students.
One month later, Stewart was on a run when he learned he had been selected as a Healy Fellow: "I already felt like I had hit the jackpot, so I was overwhelmed with excitement."
As a Healy Fellow, Stewart is pursuing dual master's and Ph.D. degrees. He is taking time during his first year to explore different topics in the field, including second language acquisition, semantics and syntax, and examining linguistics through a social lens, all while working toward his goal of becoming a linguistics professor. He hopes to continue to build interdisciplinary connections and community with Georgetown's Healy Fellows, faculty and graduate students, and to advocate for underrepresented identities in academia.
"I have so many interests, I'm trying to find out what niche I'll end up in. But regardless, what will follow me wherever I go is advocacy," he says. "Working as a Black male on campus can help others see themselves in this field. But beyond that, I want to make sure I'm an advocate for the identities that I don't carry, whether that's through the curriculum I teach or topics I bring up."
A Ph.D. in Philosophy for Community Advocacy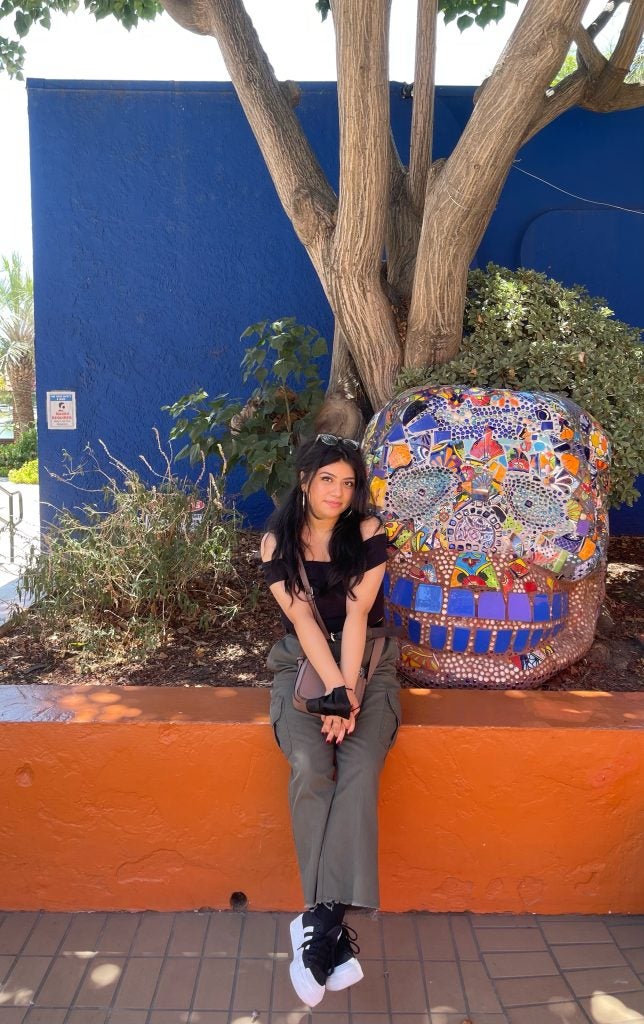 Mariana Gomez (G'27) is a first-generation Mexican American and college student who's studying philosophy in Georgetown's Ph.D. program. She initially planned to pursue a legal career to support her family. But during college at California State University, Fullerton, Gomez realized she could contribute in a different, meaningful way to her family and community.
"I invested in philosophy because I felt like theory could really benefit my community long-term in regards to our goals, restorative justice and social justice," she says.
Her undergraduate professors encouraged her to pursue her Ph.D., and she was accepted into almost all of the eight programs she applied to. Gomez was inspired by the steps Georgetown's philosophy department had taken to diversify its faculty and staff. She was even more motivated by two professors of color who were exploring revolutionary topics in philosophy – topics that aligned with her own interests. Receiving the Patrick Healy Graduate Fellowship, Gomez says, gave her the financial support to focus solely on her research and studies.
"It's a very rare thing to have," she says. "I wouldn't have been able to go to a Ph.D. program otherwise, and a lot of students in my community have not been able to succeed because of financial stress," she says. "I think about them all the time, and I want to make my community proud."
"The Healy Fellowship is more than just the financial benefits. It's about who you are and who you want to be in the academic world."

Mariana Gomez (G'27)
At Georgetown, Gomez is studying colonial systems in the U.S., the legacy of colonialism in prisons, and the philosophy of race, oppression, feminism, Latinas and anti-colonialism. Gomez hopes to use the Healy Fellowship to pursue a career as a professor and advocate for her community in California. In the meantime, she encourages applicants for the Healy Fellowship to learn from current fellows about the sense of community and opportunity at Georgetown.
"Take this opportunity very seriously," she says. "The Healy Fellowship is more than just the financial benefits. It's about who you are and who you want to be in the academic world."
A Pivot From the Priesthood to a Ph.D.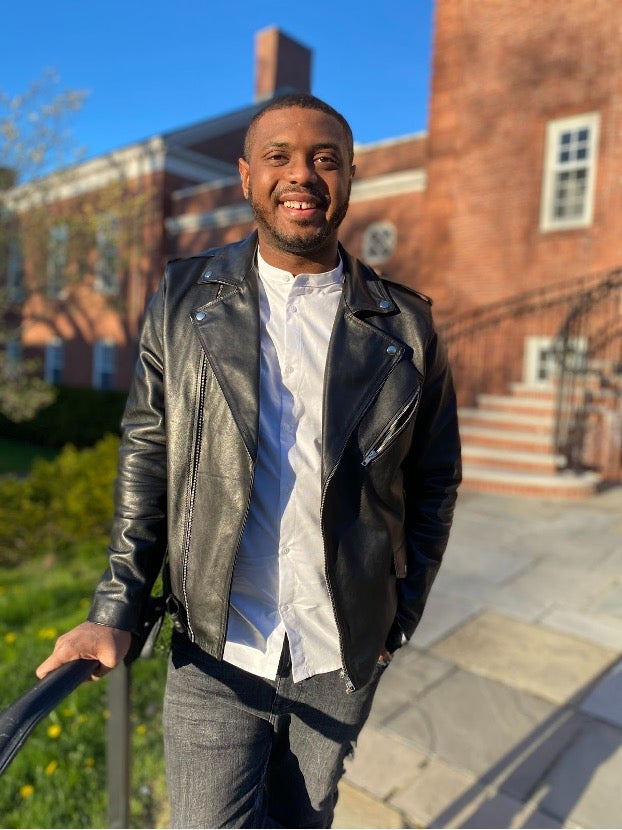 Christopher Gurley (G'26) is a Tennessee native who is pursuing a Ph.D. in history. His current research stems from the master's thesis he wrote at Yale University about a Black Catholic mission parish in rural Tennessee.
"Doing that project I really fell in love with history as a social narrative and within that narrative the different human politics that were involved: either race or class or colorism," he says.
Studying history, however, was a pivot from Gurley's original path in life: joining the priesthood. After graduating from Tennessee State University, a Historically Black College and University (HBCU), Gurley attended Vanderbilt University Divinity School for a master's degree in theology, which a mentor recommended to help him see his Catholic faith and studies through a "non-Catholic institutional gaze," he says.
Gurley was the first African American to receive the school's Roman Catholic Scholarship and, through his studies, discovered his passion for the academic study of religion. He continued his religion studies at Yale, and, after graduating, was torn between joining the Society of Jesus or attaining his Ph.D. He prayed about it, and decided a Ph.D. would be the best fit for him.
Gurley chose Georgetown's program for its history as the first Catholic university in the U.S. and for its "hub of Catholic intellectualism." When Gurley found out he was selected for the Healy Fellowship, he felt grateful and surprised both personally and professionally. As a Catholic, he was surprised to learn about Patrick Healy's personal history at Georgetown and as the first African American to earn a doctorate degree. He also found the Healy Fellowship helped alleviate the financial stress of moving to Washington, DC, and provided extensive resources, including language training, access to the archives at Lauinger Library and the emotional support and community of the Healy cohort.
"Knowing I would have the resources to prepare in every single way I needed to become the scholar I want to be is something I could not have done without the Healy fellowship."

Christopher Gurley (G'26)
He also noted that Georgetown's access to documents like the papers from the former Maryland Province for the Jesuits, which ties directly to his research, was an opportunity he couldn't pass up.
Gurley sees his research interests as fitting in with the principles of Georgetown's work on Slavery, Memory & Reconciliation: "As the university reckons with its history and participation within the culture of slavery, this is one way I can contribute to that conversation and illuminate the intersectional experience of Black Catholicism in the U.S.," he says.
After graduating, Gurley hopes to become the president of an HBCU or the first Black representative to the Vatican from the U.S. In the meantime, Gurley will investigate the history of Black culture within the Catholic church as an interdisciplinary scholar supported by a steady stream of resources.
This article was originally published by Georgetown University. Please follow the link to read the full story.