A Resilient Class of 2022 Graduates from Georgetown
To the tune of an impromptu chant of "Hoya Saxa" at Senior Convocation, Georgetown kicked off nine ceremonies to celebrate the Class of 2022's Commencement — the first graduation back on the Hilltop in three years.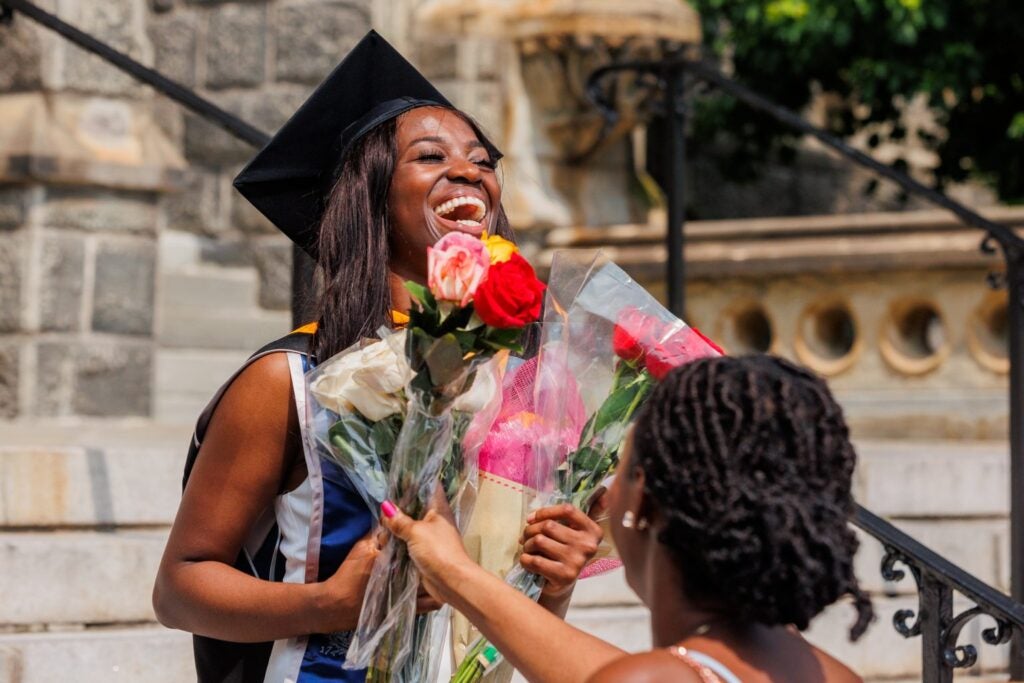 From May 19-22, Georgetown graduated more than 7,000 graduate and undergraduate students on campus and, for the School of Medicine, in downtown Washington, DC.
"Members of the Georgetown Class of 2022, your moment is at hand. Congratulations!" Georgetown President John J. DeGoia said at Senior Convocation on May 19. "Hold onto your excitement and trust that you have developed the abilities and the self-knowledge that will sustain you as you move into your futures. Already, you have encountered and responded to great challenges and done so as a community — with care and support for one another."
Nine of Georgetown's schools graduated students at individual ceremonies. The commencement speakers included Secretary of State Antony Blinken, Special Olympics Chair Timothy Shriver, and social justice advocate Sr. Norma Pimental.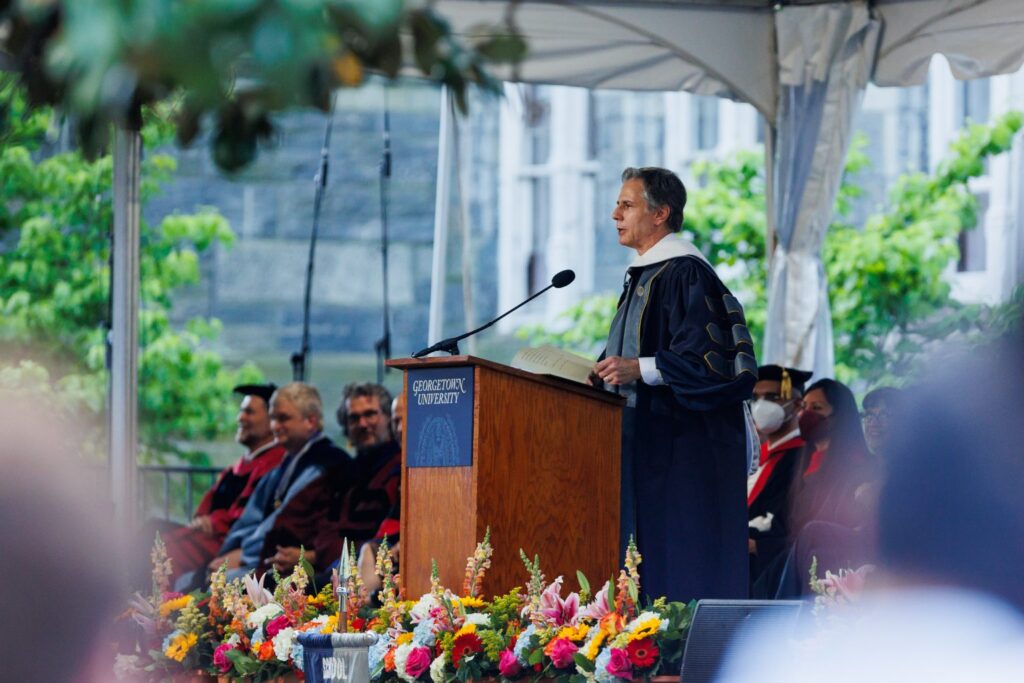 "Know that you will get lost and that the losses and setbacks may well outnumber the wins," Blinken said during the Walsh School of Foreign Service (SFS) Commencement on Saturday, May 21. "And as you stick with it, you'll find that even the smallest steps forward will do more than sustain you. They will fulfill you. They will help shape this world for the better. So Class of 2022, we welcome you with open arms to the ranks of the doers. And we can't wait to see all that you will get done."
A Resilient Class of 2022
The ceremonies recognized the resiliency of the Class of 2022, a class of Fulbright scholars, Rhodes finalists, veterans, first-generation college students, students who represented more than 50 nations, many of whom spent time away from the Hilltop during the COVID-19 pandemic.
"This class in front of us has persevered through unprecedented challenges," Georgetown Provost Robert M. Groves said at Senior Convocation. "Many of the events we jointly experienced were tragedies. But you, this special class, persevered through it all. You have honored this university by your resilience that has led to your accomplishments that we collectively applaud today."
Senior Convocation
On Thursday, May 19, undergraduates from SFS, Georgetown College, the School of Nursing & Health Studies, the McDonough School of Business and the School of Continuing Studies processed into Healy Lawn, the place where they began their Georgetown career at New Student Convocation four years earlier.
"This event is a bookend for that first convocation," Groves said. "Despite what you may have thought four years ago, you did it. You did it!"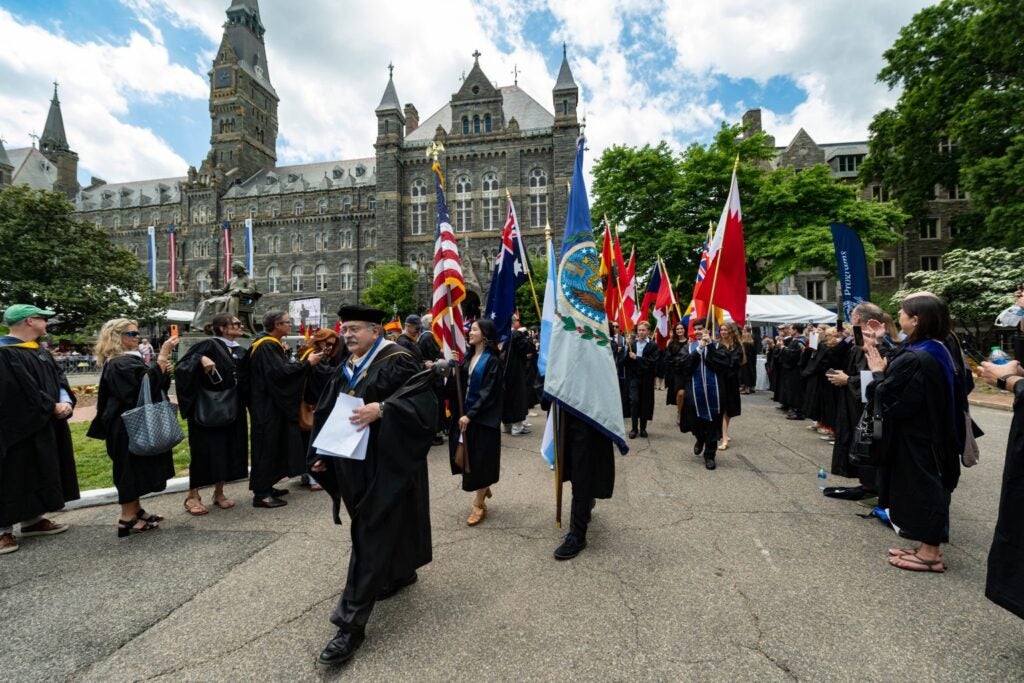 The 1,692 undergraduates, who collectively completed nearly 200,000 credit hours, hailed from 49 states and represented 56 nations. Provost Groves welcomed the graduating seniors, their friends and family and Georgetown faculty, staff and alumni to the annual event that begins Commencement weekend.
Alumni Luke Schoenfelder (C'12), the founder of Latch, a start-up that offers software systems for apartment buildings, a Marshall Scholar, a member of the McCourt School's advisory board, and the speaker at his own Senior Convocation, served as the keynote speaker.
Seniors Ashanee Kottage (SFS'22), a Rhodes finalist and a science, technology and international affairs major from Sri Lanka who plans to work as a research analyst for the Earth Commons Institute and the Laboratory for Global Performance and Politics at Georgetown; and Jordan Kramer (C'22), a Goldwater Scholar and biology major from Texas who will be pursuing her doctorate in pediatrics at the University of Oxford, both spoke at the convocation. 1 of 6Next SlidePrevious Slide
Fellowship and Scholarship Winners
The Class of 2022 won many competitive fellowships during their years at Georgetown, including:
23 Fulbright Scholarships
1 Goldwater Scholarship
2 Marshall Scholarship Finalists
2 Pickering Fellowships
1 Presidential Fellowship
3 Rhodes Scholarship Finalists
1 Schwarzman Scholarship
3 Truman Finalists
1 Big East Undergraduate Research Poster Symposium Awardee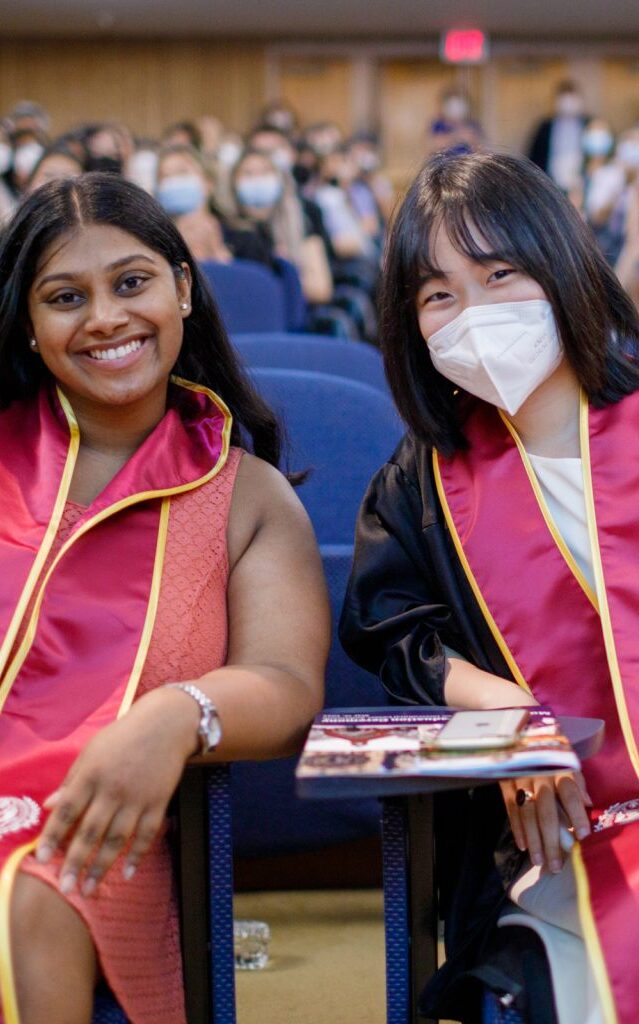 The Class of 2022 By the Numbers
The following schools welcomed graduating students to join the community of 200,000+ Georgetown alumni:
The McCourt School of Public Policy graduated 235 students during its May 19 commencement ceremony, with 103 students who earned their masters in public policy; 87 their masters in public management; 12 their masters in international development policy; 19 their master of science in data science for public policy; and 14 who received degrees from the Executive Master in Policy Leadership program.
At Graduate School Commencement on May 20, the Graduate School of Arts & Sciences bestowed degrees to 461 graduate students, including 87 doctoral degrees and 374 master of arts and master of science degrees. During the ceremony, 638 students also received degrees from the Biomedical Graduate Education at Georgetown, including 23 doctor of philosophy degrees; 606 master of science and master of arts degrees; and nine who received degrees from the Executive Master's in Clinical Quality, Safety & Leadership program.
More than 1,100 students graduated from the McDonough School of Business on May 20, including 330 undergraduates and 776 graduate students – the latter of whom received 386 MBAs, 89 executive master's of business administration and executive master's in leadership, and 301 students who received their master of science and master of arts degrees.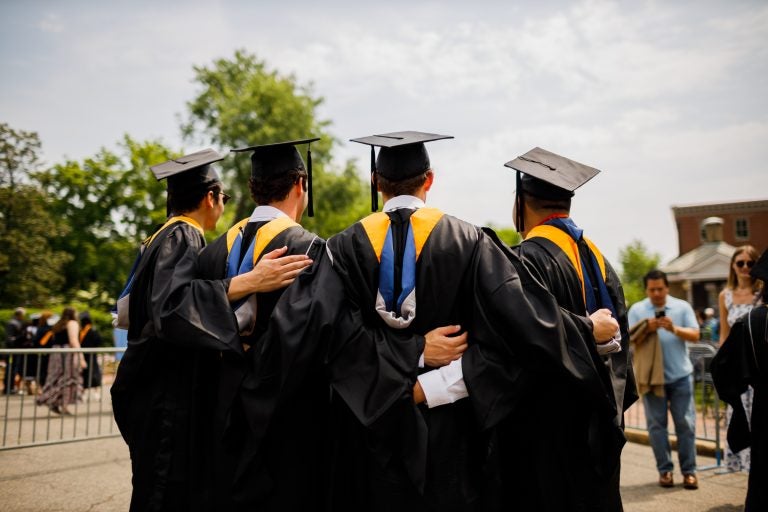 The School of Continuing Studies graduated the largest number of students – 1,622 – with 1,562 master of professional studies degrees, 27 executive master of professional studies degrees, 23 master of arts in liberal studies degrees, 10 doctor of liberal studies degrees and 22 bachelor of arts in liberal studies degrees, during its May 20 commencement.
On May 21, 859 students graduated from Georgetown College, with 679 bachelor of arts degrees and 180 bachelor of science degrees.
The School of Nursing & Health Studies bestowed 427 degrees, including 113 bachelor of science degrees; 247 master of science degrees; and 44 doctoral degrees, at its May 21 commencement ceremony.
On Saturday, May 21, the Walsh School of Foreign Service graduated 1,370 students, awarding 386 bachelor's degrees and 509 master's degrees to students.
A total of 196 students graduated with their M.D. from the School of Medicine during Sunday morning commencement, including five students who earned dual degrees in M.D./MBA.
At the final ceremony of the weekend, Georgetown Law graduated 1,374 students. More than 660 students earned their J.D., 702 their master of laws, and four their doctor of juridical science.
Georgetown University in Qatar, which held its 14th commencement ceremony on May 12, graduated 87 students.
Editor's Note: Numbers are approximate and based on the data available as of Friday, May 20. They are subject to change.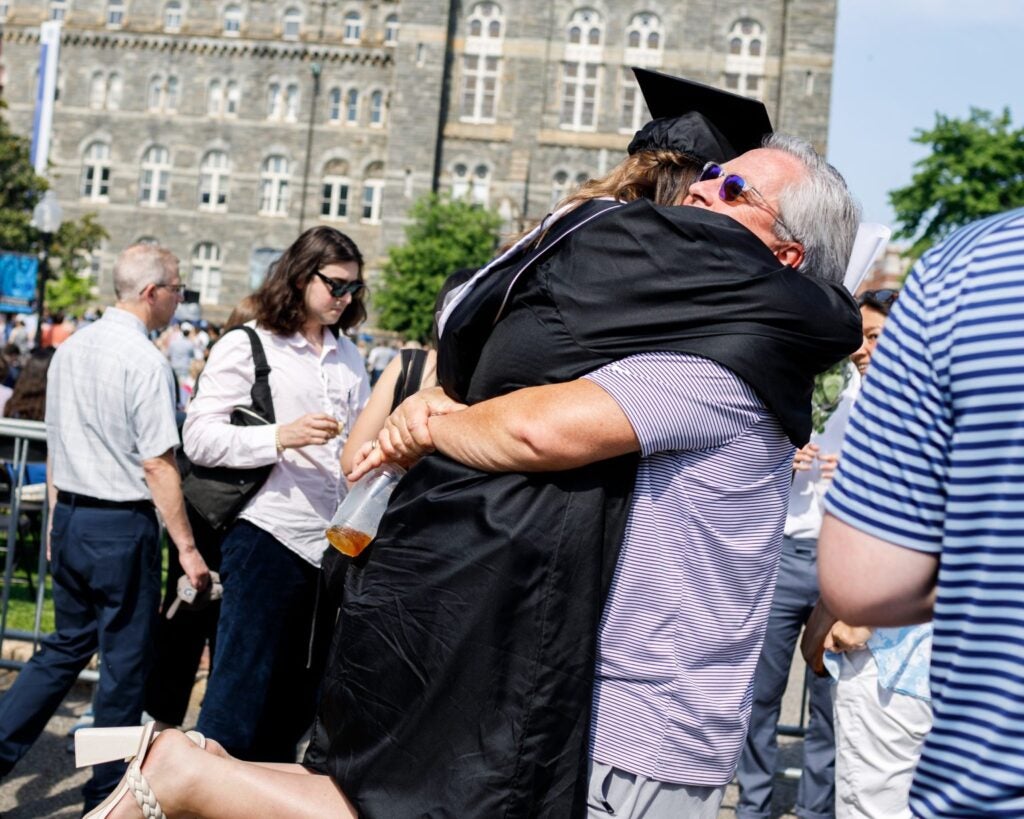 This article was originally published by Georgetown University. Please follow the link to read the full story.