Alumnus gift establishes joint MSB-SFS degree program to prepare future global business leaders
Undergraduate students are pursuing Georgetown's first joint degree program between the McDonough School of Business and Edmund A. Walsh School of Foreign Service. The unique program, named the Dikran Izmirlian Bachelor of Science in Business and Global Affairs Program, draws from the strengths of both schools to prepare business and policy leaders to tackle the most complex global problems. The program emphasizes the interaction of the public and private sector, combining practical business and policymaking skills, a nuanced understanding of global affairs, and experiential learning in Washington, D.C. and abroad.
Honoring the values of Dikran Izmirlian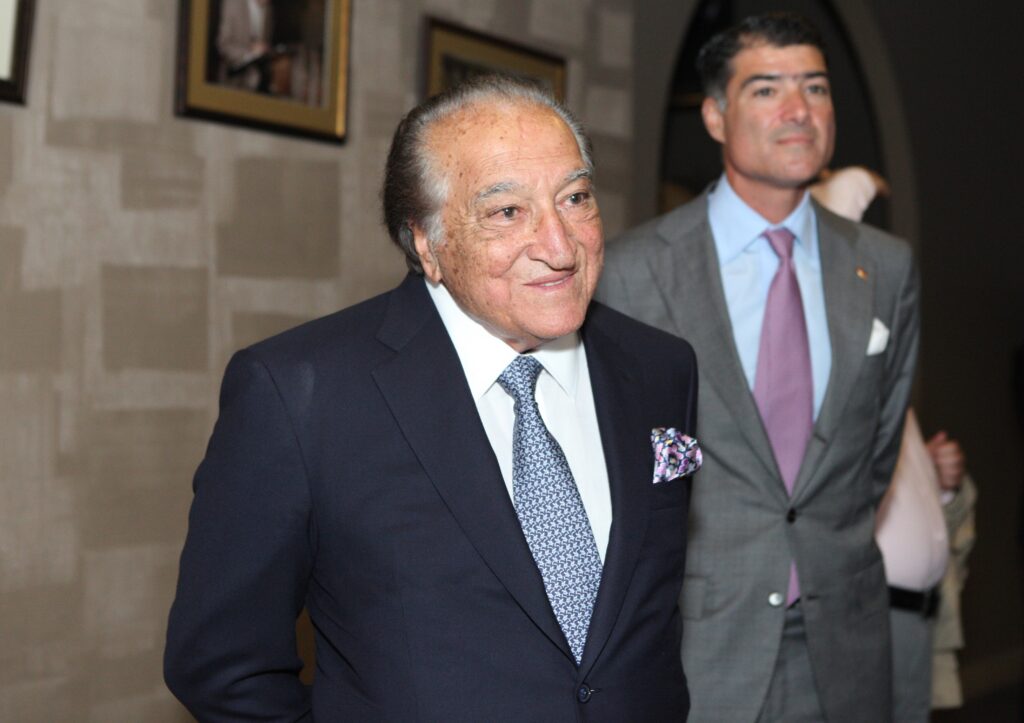 The Dikran Izmirlian Bachelor of Science in Business and Global Affairs Program—created by Georgetown McDonough and the School of Foreign Service and named and transformed with a gift from Georgetown alumnus Sarkis Izmirlian (B'94, Parent'25, '26)—honors Sarkis Izmirlian's father, Dikran Izmirlian. Having experienced firsthand the displacement caused by world events, Dikran Izmirlian overcame adversity to become a self-made global business leader and philanthropist. Dikran Izmirlian recognized the importance of and prioritized education and philanthropy, values that he has ingrained in his family.
"I am profoundly grateful to Sarkis Izmirlian for his extraordinary leadership in supporting this program," says Georgetown University President John J. DeGioia. "His generosity will deepen our efforts to prepare a new generation of global leaders."
Reshaping pedagogy for a dynamic world
The innovative program has three distinctive features:
A four-course interdisciplinary major sequence that combines foundational concepts with on-location experiential learning (domestically and internationally), each course of which is team-taught by faculty members from both schools;
A multi-semester thread course that connects students with the international business and policy ecosystem of Washington, D.C.; and
Coursework in quantitative methods that integrates data science and analytics.
"More and more often, solutions to the world's most complex issues are found at the nexus of business, geopolitics, and international relations," said Paul Almeida, dean of Georgetown McDonough. "Through the Dikran Izmirlian Bachelor of Science in Business and Global Affairs Program, students gain a world-leading global and immersive experience as they explore these challenges and gain the knowledge and perspectives to serve the common good."
"The Dikran Izmirlian Bachelor of Science in Business and Global Affairs Program is a revolutionary program," says Joel Hellman, dean of the School of Foreign Service. "Georgetown has created a truly integrated new curriculum that combines the best of a business and international affairs education. It reflects the fact that solutions to current global problems require both the public and private sectors. This program will create a new generation of problem-solvers."
This program uses a cohort-based learning model, with approximately 40 students per cohort. Students apply at the end of their first year of undergraduate studies, after having taken an introductory "gateway" class. Those who are selected over the summer to move on spend the next three years taking eight courses with their cohort. The first cohort began their studies as sophomores in the fall 2021, and will graduate in 2023. Another new cohort began in 2022, and the program is in the process of selecting the next cohort.
Learning beyond the classroom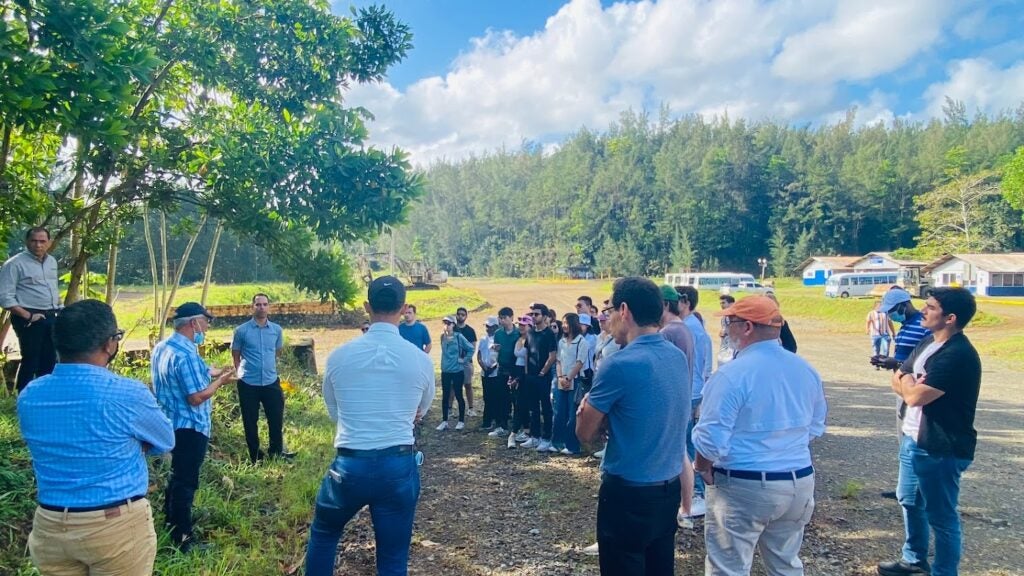 The program enables complex issues to be understood and addressed through experiential learning in locations around the world, during which students learn directly from different stakeholders. By funding these national and global immersion trips, the program ensures that any accepted student will be able to travel with the cohort at no additional cost. The thread course is structured so that in the fall semester of their sophomore, junior, and senior years, students attend congressional hearings, think tank events, and lectures in Washington, D.C. During the signature course sequence, students participate in immersive trips. Last spring break, the Class of 2023 cohort traveled to the Dominican Republic with the Center for Social Justice to immerse in a different culture, explore how living and working conditions can differ around the world, and see how people in different circumstances might be affected by climate change.
"[T]he trip showed me the necessity of traveling to the communities where global firms operate, because nothing can replace being on the ground and having a conversation with the people who are directly impacted by the externalities we discuss in class," shares Anna Csigirinszkij (B'23).
On another trip, the Class of 2023 cohort followed the value chain of The Gap, a multinational clothing company. Georgetown alumni working for the company helped set up visits to The Gap headquarters in San Francisco, a cotton processing plant in North Carolina, and a return visit to the Dominican Republic to see a shipping port and speak with local government officials about tariffs and more.
"That trip was really impactful," says Brad Jensen, McCrane/Shaker Chair in International Business at the McDonough School of Business, who serves as director of the program. "To see all the stages in a value chain makes the foundational learning students do in class seem real. They can see how regulation, trade policy, international relations, tax policy, and immigration policy all affect the business, and learn a little about how companies try to influence that policy environment."
Building a community of global leaders
Students completing the program will be equipped with strong relationships and a wealth of business and policy perspectives that will shape how they address global challenges.
"Through the exposure of the on-location experiences, we're looking to accelerate learning so students graduate with a deep and sophisticated view of how the world works," Jensen says.
"I am proud to support Georgetown University, which has recognized the need to innovate the educational opportunities available to students and to pass on the Jesuit values," Sarkis Izmirlian says. "This important global program honors my father, who throughout his life excelled, even while operating through many political and economic challenges. My hope is that the program will enable students to be best prepared for the world today, as well as the world tomorrow, and to embrace the important values that have served my father well."
In addition to the Izmirlian family's funding of the program, many other donors have invested in the development of the program, including in the early phases of evolving a joint curriculum. Georgetown alumni have also played an integral role in the program's success by partnering with the program to create impactful experiential learning opportunities. Alumni at The Gap, Sweetgreen, and the International Finance Corporation of The World Bank Group have developed meaningful class projects that challenge students to face the realities of putting complex ideas into practice. These partnerships will be an essential component of the future of the program.
"Georgetown alumni are fantastic," Jensen says. "It is a wonderful opportunity for our students to tap into such a vibrant community."
This article was originally published by Georgetown Today. Please follow the link to read the full story.