Anna Landre (SFS'21) Recognized for Disability Rights Advocacy with Truman Scholarship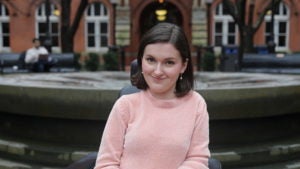 Throughout her time at Georgetown, Anna Landre (SFS'21) has been a champion of disability rights, both on and off campus. Now, as one of just 62 recipients of the prestigious Truman Scholarship, she plans to attend graduate school to help to build a career advocating for people with disabilities around the world.
Awarded to outstanding college juniors across the United States who are committed to a career in public service, the Truman Scholarship provides funding for graduate study and access to a network of other scholars.
Anna hopes to use the scholarship to study at Georgetown's Master of Science in Foreign Service (MSFS) program, where she can explore policies that fill in gaps that limit opportunities for people with disabilities in employment, education and public spaces.
Landre credits the support and guidance of Georgetown faculty members—such as Libbie Rifkin, Sylvia Onder and Lydia Brown from the Disability Studies Program, as well as Matthew Carnes, S.J. and Diana Kapiszewsk—with her efforts to fight for disability rights on campus and beyond and with helping her pursue research within the field of disability studies.
Continuing Her Studies at Georgetown
For Landre, the MSFS program is the obvious choice for her career aims. She would like to create a self-designed concentration that takes an international approach to disability policy studies.
"I think the MSFS's strong development curriculum and focus on marginalized populations will help me pursue this important and understudied area," says the junior majoring in regional and comparative studies with a focus on development in Latin America and Africa.
At both the undergraduate and graduate level, Landre thinks Georgetown is well-suited for conducting this kind of research. She highlights "Georgetown's growing expertise in disability studies, our established position in the world of foreign service and our Jesuit values" as factors that make the university a strong research hub for disability issues.
This article was originally published by Walsh School of Foreign Service. Please follow the link to read the full story.