Beeck Center Appoints Senior White House Leader as New Executive Director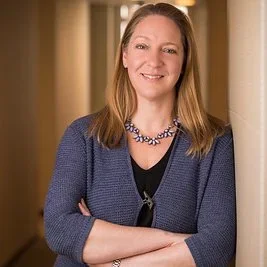 Georgetown's Beeck Center for Social Impact + Innovation has hired Lynn Overmann, a senior White House leader with technology, policy and higher education expertise, as its new executive director.
Overmann, who began her role on March 6, serves as the primary spokesperson and leads fundraising and development efforts for the Beeck Center, an interdisciplinary organization that connects students, expert practitioners and extended networks to solve societal challenges through data, design, technology and policy. The center recently announced more than $11 million in new funding to support its ongoing efforts.
"As the Beeck Center enters its next phase of growth and development, there is no one better to lead our team than Lynn," says Alberto Beeck, co-founder of the Beeck Center and chair of its advisory board. "We look forward to scaling our impact under Lynn's leadership to reach even more people with improved digital government services and continue to inspire more students to pursue this critically important work."
Overmann has more than two decades of experience in government, philanthropy and academia, including senior-level positions in the Biden and Obama Administrations.
Most recently, Overmann served as the senior advisor for delivery for the U.S. Digital Service, where she was embedded in the White House's Domestic Policy Council and advised U.S. Ambassador Susan Rice and U.S. Digital Service Administrator Mina Hsiang on policy implementation. In this role, she led the Digital Service teams to harness data and technology to advance criminal justice reform, improve the delivery of social safety net benefits and increase access to federal funding for low-income communities.
Throughout her career, Overmann has used data to advance equity, economic mobility and justice reform efforts. She led the U.S. Department of Agriculture's work in advancing equity and improving insights into rural economies through data and design. She served as a senior data strategist for Opportunity Insights, a research and policy institute at Harvard University, to increase economic mobility. And as the senior policy advisor to the U.S. chief technology officer in the Obama Administration, she launched the Data-Driven Justice Initiative, a bipartisan coalition of city, county and state governments that use data-driven strategies to disrupt cycles of incarceration for people convicted of low-level offenses who have mental illnesses.
"We are thrilled to welcome Lynn Overmann to the Beeck Center and greater Georgetown community," Georgetown Provost Robert M. Groves said. "Her extensive experience driving strategy at the highest levels will prove integral as the Beeck Center continues to reimagine the future of public interest technology."
A member of Georgetown's Tech & Society Initiative, the Beeck Center tests new ways for public and private institutions to leverage data and analytics, digital technologies and service design to help more people. Overmann says she hopes to continue developing data-driven solutions to drive change at the center.
"I am honored to be named executive director of the Beeck Center and join this incredibly talented team of faculty, fellows, and students at Georgetown," Overmann says. "I'm looking forward to diving in and continuing to accelerate data-driven, human-centered solutions that will most improve people's lives, especially for our most vulnerable populations."
This article was originally published by Georgetown University. Please follow the link to read the full story.