Bill and Hillary Clinton, U.S. and Foreign Policymakers Remember Madeleine Albright at Georgetown Symposium
Prominent American and foreign policymakers — including President Bill Clinton (SFS'68) and former U.S. Secretary of State Hillary Clinton — convened yesterday on Georgetown's campus for a symposium celebrating the life and work of Madeleine K. Albright.
Albright was the first woman U.S. Secretary of State, a U.S. ambassador to the United Nations and beloved professor who taught for almost 40 years in the Walsh School of Foreign Service. She taught her last class at Georgetown in 2021 and died on March 23, 2022, at age 84.
To honor her impact and legacy, Georgetown students, faculty and staff, the Clintons, U.S. Deputy Secretary of State Wendy Sherman, U.S. Ambassador to the United Nations Linda Thomas-Greenfield, former foreign ministers she worked with and policy scholars reflected on Albright's impact and the issues she cared about during a two-day series of events.
"Her dedication to public service, her scholarship, her visionary leadership in diplomacy and human rights have always been deeply connected to her work as a professor and her time here at Georgetown," Georgetown President John J. DeGioia said in his introduction to the Clintons. "We were the beneficiaries of her presence in our community for four decades. Madeleine Albright and her legacy will shape our community for many years to come."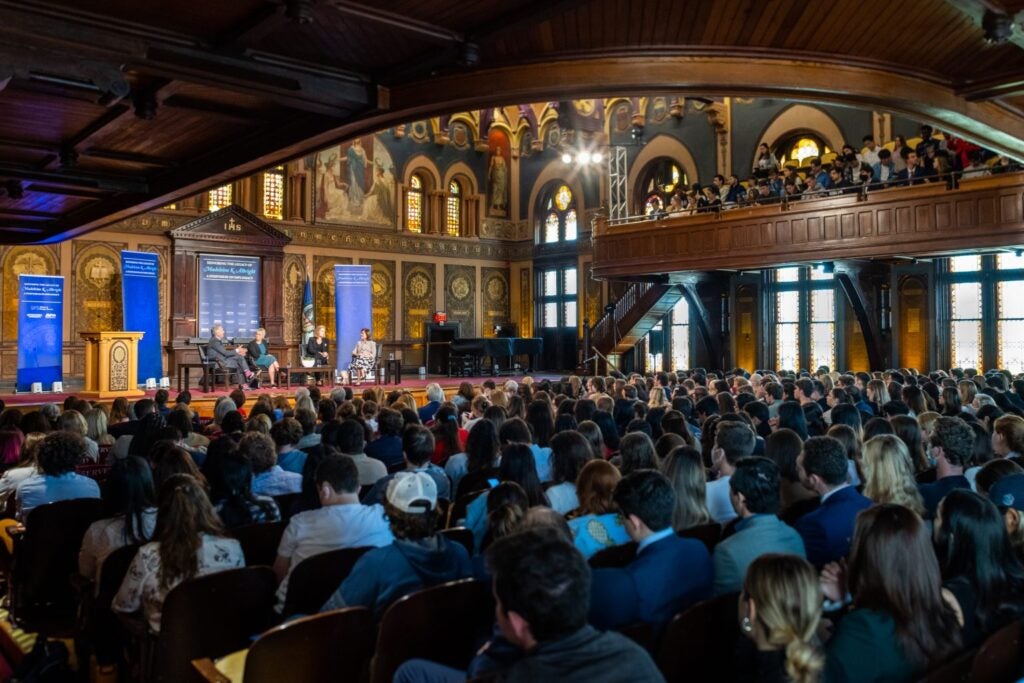 The Clintons Remember Albright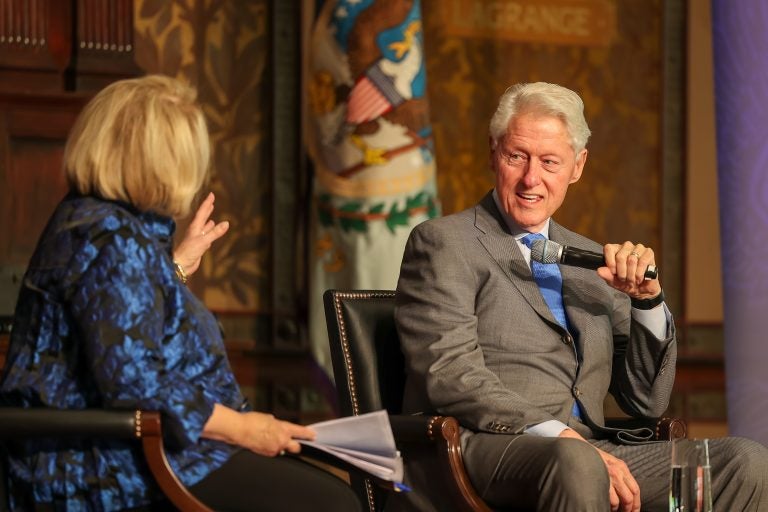 The day's final conversation between Bill and Hillary Clinton was moderated by Ambassador Melanne Verveer (I'66, G'69), executive director of the Georgetown Institute for Women, Peace and Security, who knew the former president during their time as students at Georgetown. Verveer would go on to serve as Hillary Clinton's chief of staff while she was first lady and the first U.S. ambassador-at-large for global women's issues in Clinton's State Department.
President Clinton said he first met Albright in 1988, when she was working on Gov. Michael Dukasis's presidential campaign. He recounted his decision to appoint Albright secretary of state — the first woman to hold the job.
"I knew by then she'd already been at Georgetown six years, and she had already been voted the best professor once at least. I was very impressed by her," Clinton said. "I thought she would send the right image to the world: She would be America's first female secretary of state; she came from Czechoslovakia, and she represented even more than she knew at the time. I just thought she was the right person for the right time, and boy, it turned out to be better than I ever dreamed."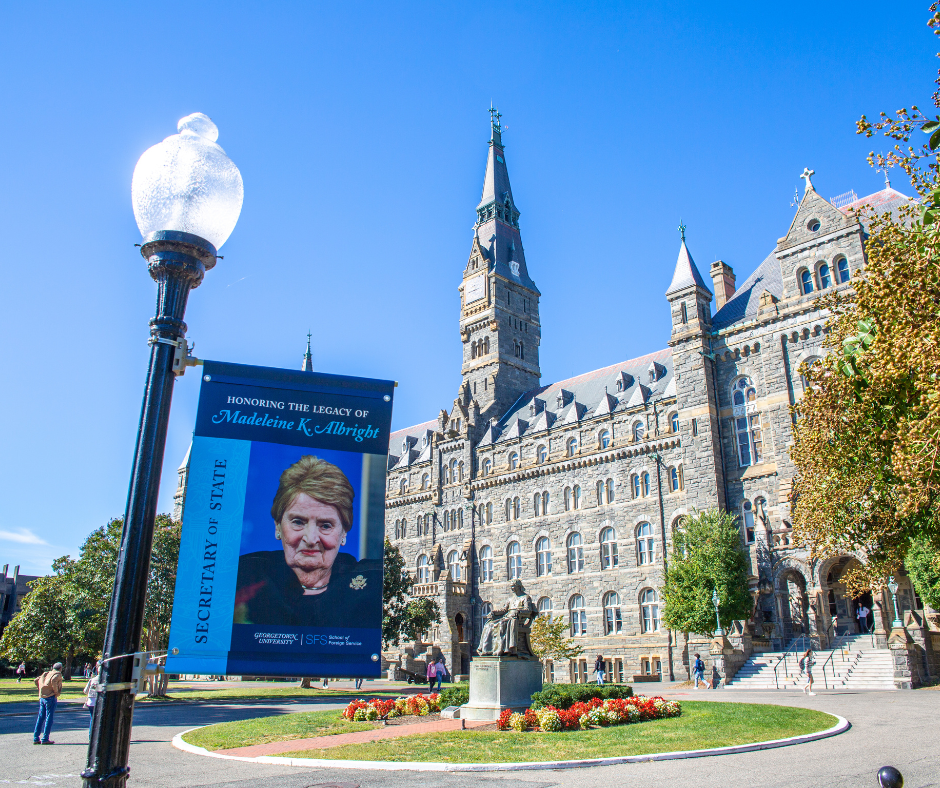 Clinton recalled his last conversation with Albright two weeks before she died. He asked her how she was doing. She told him she'd been having medical problems, but that she had a different conversation in mind.
"She said, 'Let's not waste any time talking about that. Let's talk about what our grandchildren are gonna have to face, and how it starts in Ukraine,'" he said. "It was so vintage Madeleine. She wasn't even self-consciously brave. She was just a really smart woman who couldn't imagine why you'd waste the last few weeks of your life on reminiscences or regrets when you'd had the life she'd had and there was still so much to do."
Hillary Remembers Madeleine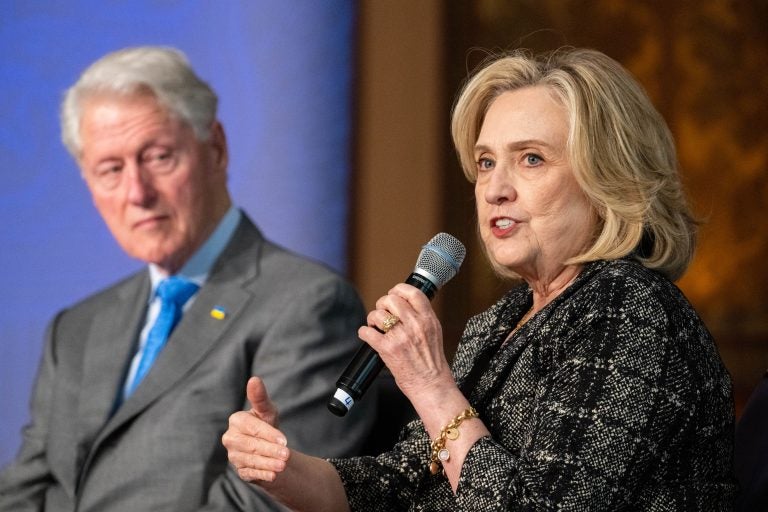 In her remarks, Hillary Clinton noted Albright's influence on her landmark speech on women's rights at the 1995 United Nations Fourth World Conference on Women and Albright's ability to forge connections and find common ground, even with those she disagreed.
"Madeleine felt strongly about a lot of things. She stood up for herself. But she also was trying to find out what made somebody tick. She was always trying to make connections," Clinton said. "Here in the School of Foreign Service, you've got incredible professors and visiting lecturers who can give you a feel for what it's like in very difficult circumstances to try to find some sliver of common ground to end a conflict. It's not easy. Madeleine was a terrific diplomat because she liked people fundamentally."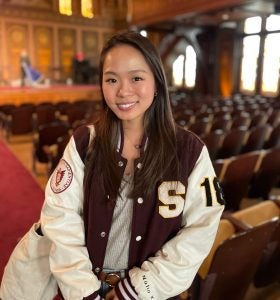 Naho Kimura (G'23), an international student from Japan, said she was struck by Albright's strong personal connections to foreign policymakers.
"I knew her as one of the most prominent U.S. politicians, and hearing personal anecdotes from people who had connections to her made me realize that at the end of the day, it's not between country and country. It's person to person," she said. "It made me realize the importance of personality and your characteristics." Kimura hopes to work in international refugee protection after graduation.
"I think this is the perk of being at Georgetown — I would not have been able to be in the same room with all those people here today."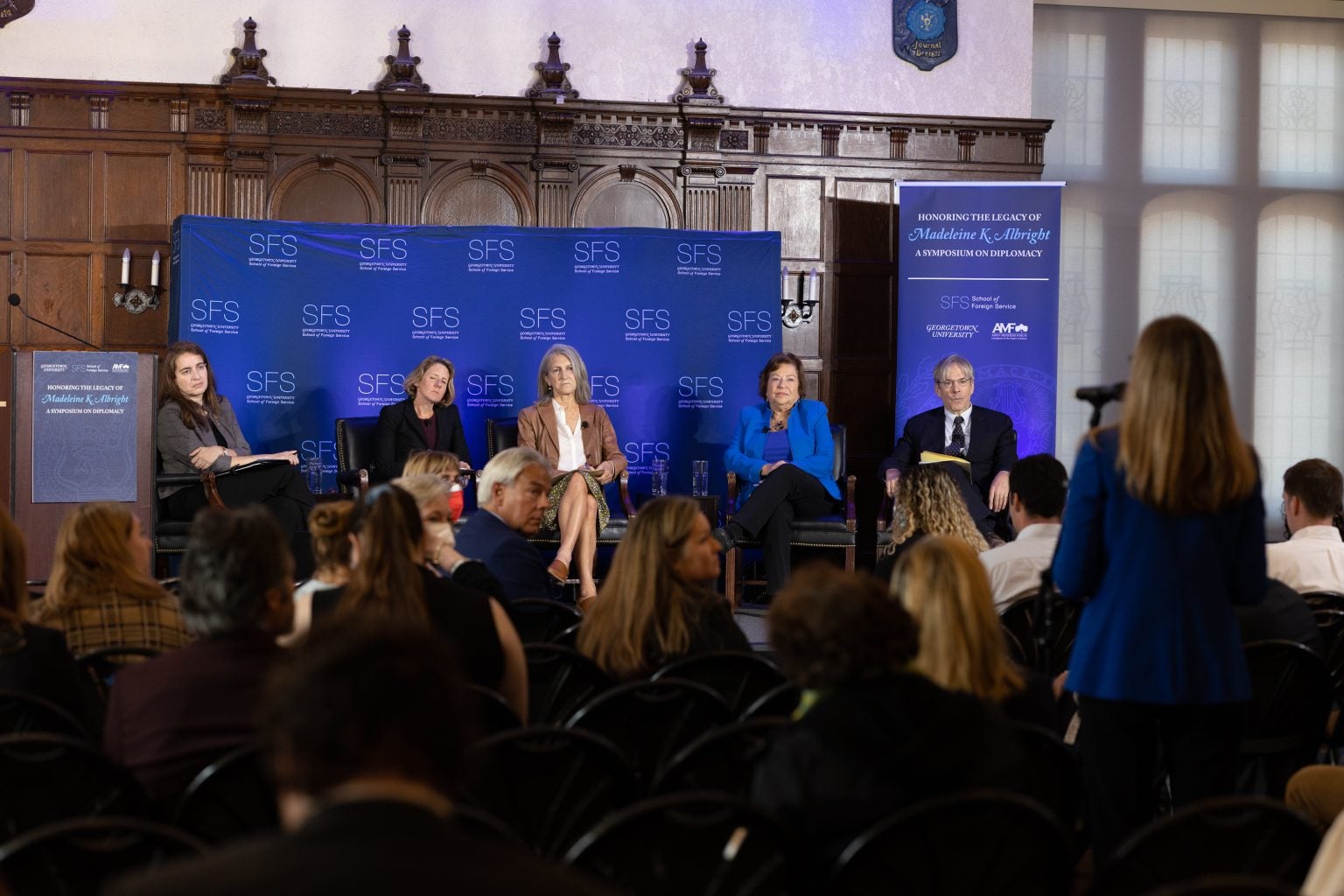 Women in Foreign Policy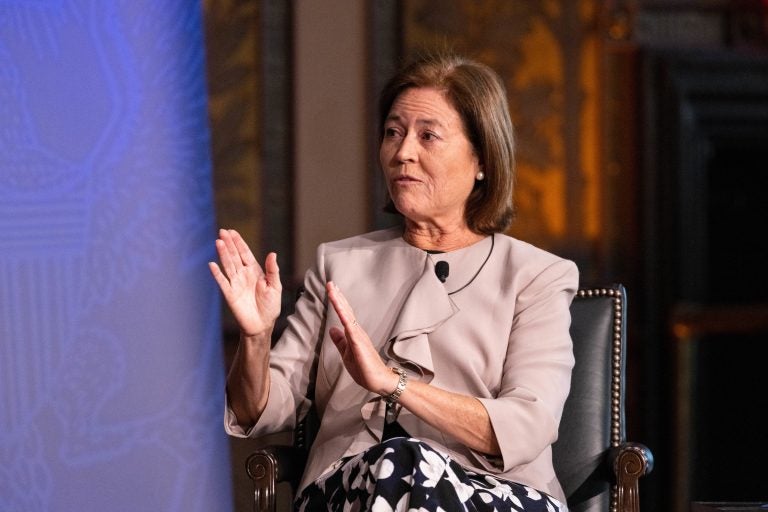 A devoted professor and frequent winner of the school's outstanding professor award, Albright left an academic legacy that was discussed in a morning panel of policy scholars.
Her legacy as a diplomat and the path she forged for women in foreign policy were subjects of panels with former female foreign ministers from El Salvador, Israel and Sweden and current U.S. foreign policymakers Sherman and Thomas-Greenfield.
Mayu Ávila, the first woman minister of foreign affairs in El Salvador, recalled that when she first joined the United Nations in 1999, alongside Albright, there were only nine women foreign ministers. After a male colleague asked her to bring him coffee during her first meeting, she recalled Albright's advice.
"I served him his coffee with milk, but I sat right beside him, and I made my point of my voice being heard, which was a Madeleine recommendation: Make yourself heard," Ávila said. Ávila later joined the Aspen Ministers Forum, a group Albright founded to strengthen dialogue and diplomacy among former foreign ministers.
"Madeline may not have been the first woman to serve as U.N. permanent representative or even as U.S. ambassador to the United Nations, but her determination to bring other women to the table, to elevate their views, to support their careers and yes, to urge the men to make room, created a powerful template of leadership for all of us to follow."

Wendy Sherman, the first female deputy secretary of state, a colleague, friend and business partner of Albright
In a panel with Sherman, Thomas-Greenfield, the U.S. ambassador to the United Nations, shared how Albright had been her role model throughout her career. When she took on Albright's former position at the U.N., she emulated the secretary's efforts to create an informal group of women on the Security Council, which Albright had called the "G-7." "I know Madeleine was very proud of that," she said.
"She was an icon to so many. She paved a path forward for all of us," said Thomas-Greenfield, who led Albright Stonebridge Group's Africa practice and worked with Georgetown's Institute for the Study of International Diplomacy prior to her appointment as ambassador to the U.N. "But of all the many job titles MKA held, she was most proud of being called Professor Albright. She has left a huge legacy for all of us, and I know she is counting on you to carry her work forward."
America's National Security Tool Box
Among her accomplishments as a diplomat, women's rights trailblazer and dedicated teacher, Albright will be remembered for her famed undergraduate course, "American National Security Tool Box."
On today's second day of the symposium, students recreated the course's signature diplomacy simulation involving a foreign policy crisis. In Albright's class, students would spend the semester preparing, and the assignment made up a significant portion of their grades.
Today's competition was led by some of Albright's former teaching assistants and judged by real-life diplomats including former undersecretary of state Ambassador David Hale (SFS'84), assistant secretary for the Bureau of International Narcotics and Law Enforcement Affairs Ambassador Todd Robinson (SFS'85) and former U.S. Ambassador to Hungary Colleen Bell.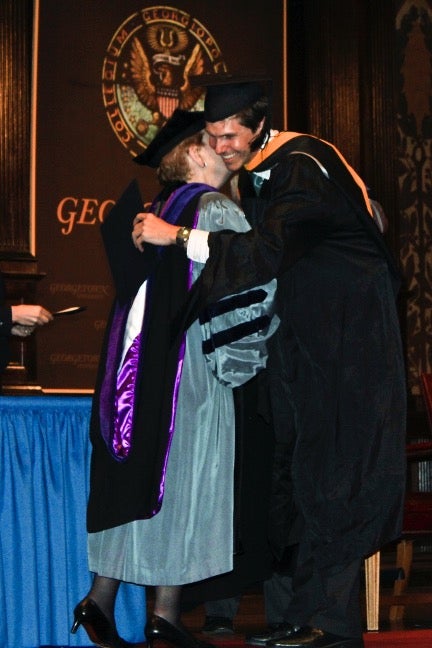 Albright even encouraged one of her former TAs David Trichler (MSFS'11), now associate director of the Global Research Institute at William & Mary, to bring the simulation to his classroom in Williamsburg.
"It was typical MKA: generous, empowering and forward-leaning, expanding her ideas and perspective to a broader audience," said Trichler. "Teaching the class, both at William & Mary and at W&M's DC center, has been a joy. And MKA was a consistent guest lecturer, both in person and via Zoom."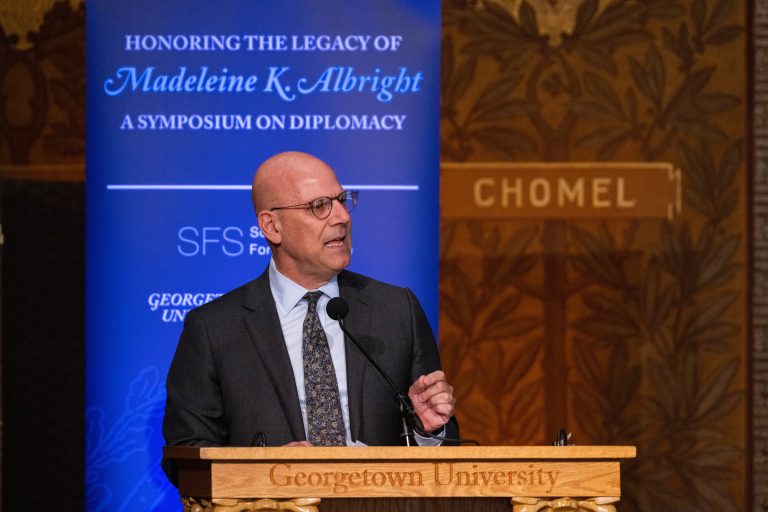 Joel Hellman, dean of SFS, recalled how Albright called him a few days before the 2022 spring semester began to tell him she wouldn't be able to teach her course. She apologized for telling him right before the semester began, but "the one thing I tried hardest not to give up was my classroom."
"As much as she changed the world during her lifetime, she left us a generation of leaders and leaders-to-be committed to helping and keeping the fight for democracy, human rights and dignity for all," said Hellman. "And at this perilous moment in world affairs, I am convinced that this will prove to be her most enduring legacy."
Carrying Her Legacy Forward
After attending the symposium, Vanesa Coello (MSFS'24) said she was struck by Albright's dedication to empowering women, a legacy she hopes to carry forward in her goal to work in the State Department.
"Prior to the symposium, I already had this passion for foreign policy in me," said Coello. "But hearing about her, it sparked something in me. She focused so much of her impact on women, and it gives me a responsibility to carry out that legacy. I want to ensure that legacy lives on through me. It just feels like I'm walking on a path I'm supposed to be walking."
This article was originally published by Georgetown University. Please follow the link to read the full story.