Class of 2024, New Transfer Students Move to the Hilltop, Start First In-Person Classes
More than 800 Hoyas start classes today as part of a five-week summer program of academic, experiential learning and social activities for the Class of 2024 and newly admitted transfer students – many of whom are living on campus for the first time.
The Summer Hilltop Immersion Program (SHIP) kicked off on Sunday after a day of orientation and a welcome event on Cooper Field, where students were greeted by university leaders.
"As our newest students, you had a different kind of immersion into academic life this past year – getting to know your peers and classmates, your faculty and the staff colleagues around our campus – under conditions of a global pandemic," said Georgetown President John J. DeGioia. "This summer program is meant to deepen your sense of immersion, your sense of community, your sense of connection to this place – and to one another."
The welcome event marked not only the beginning of SHIP, but a return to more normal on-campus operations as one of the first in-person events on the Hilltop since the university announced its preparations for a more robust return to campus this fall.
Popular and Experiential Coursework
As part of SHIP, students register for at least five academic credits and live in residence halls to allow for full immersion in campus life and connection with other classmates on the Hilltop.
"SHIP gives the participants an opportunity to fully engage university life. They will get a chance to meet faculty, administrators, and staff, who will educate, mentor, and guide them through this important time in their development," says Rohan Williamson, vice provost for education. "Importantly, they will finally meet one another and build friendships that will last a lifetime."
Students can take some of the most popular courses typically taken by first-year students and sophomores, in addition to one-credit experiential courses exclusively for SHIP students. The courses, offered under three themes – DC as Classroom, the Spirit of Georgetown and Designing Your University Experience – feature combinations of classroom work and experiences that connect students with one another, Georgetown's campus and Washington, DC.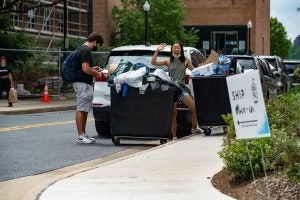 A variety of in-person, online and hybrid course options are available this summer, and many faculty are excited to safely be back in the classroom.
"Social distancing still changes energy levels in the room, but it's awesome to be in the classroom with students again," says professor Mark Giordano, who is teaching Problem of World and Life on the Anacostia River, a one-credit DC as Classroom course that includes boat trips on the river with experts in history, the environment and justice.
"I don't even have words to describe the thrill I felt to be back in the classroom in person," says Eric Langenbacher, teaching professor in the Department of Government, who is teaching the signature course Comparative Political Systems this summer. "I want them to learn in the traditional way, to benefit from the full Georgetown experience, and I want them to also have some fun, making lifelong connections and experiencing the unique Georgetown ethos as women and men for others near the very center of power in the United States."
To help ensure students could participate in SHIP regardless of their ability to pay, Georgetown extended its "need-blind, meet-full-need" admission and financial aid policy to students enrolled in the program this summer.
"After spending the past year away from DC, coming back to campus feels like returning to my second home; I have reunited with friends, enjoyed campus and explored the city, and I am now even more looking forward to two more years on campus."– Ben Telerski (C'23)
Building Community
As SHIP students adjust to on-campus life, they are supported by a group of upperclass community assistants – experienced peer mentors living with them in the residential community.
"As a community assistant, I hope to create an environment for SHIP participants to build community while learning what the on-campus experience is like," says Ben Telerski (C'23). "Forming relationships with their peers and experiencing in-person learning will show them what it truly means to be a member of the Georgetown community."
"Seeing the energy and enthusiasm of the SHIP students as they've arrived on campus has been wonderful," says Todd Olson, vice president for student affairs. "It is a joy to welcome these Hoyas to their experience on the Hilltop."
'Returning to My Second Home'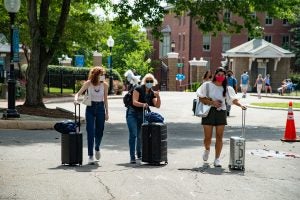 While most SHIP participants are living on campus for the first time, community assistants supporting the program – along with many faculty and staff – are also adjusting to on-campus life after nearly 16 months of virtual learning, teaching and working.
"Being back on campus after over a year of isolation at home has been a surreal experience," says Gina Joon Kang (SFS'22). "In many ways, it feels like nothing has changed at all – the edifices of Georgetown all look the same. Yet, it's obvious that things have changed tremendously."
"After spending the past year away from DC, coming back to campus feels like returning to my second home," says Telerski. "I have reunited with friends, enjoyed campus and explored the city, and I am now even more looking forward to two more years on campus."
This article was originally published by Georgetown University. Please follow the link to read the full story.