COP27: Georgetown Community Acts on Climate Change at UN Conference
Georgetown students, alumni and staff participated in international climate negotiations and hosted artistic and policy events at the 27th United Nations Climate Change Conference (COP27) in Sharm el-Sheikh, Egypt, from November 6-18.
The largest annual conference on climate action, COP brings together government officials and civil society leaders from across the globe to adopt new decisions on climate action.
This year, Georgetown students at COP participated in the negotiations, attended events and reported back to their classmates on the Hilltop. Georgetown staff and alumni also hosted side events for international leaders and performed storytelling events about climate change, leveraging expertise from the Georgetown Climate Center, the Earth Commons Institute, the Laboratory for Global Performance and Politics and the Georgetown Institute for Women, Peace and Security.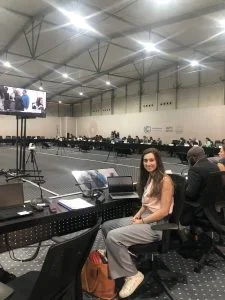 Tessa Ide (G'23), a graduate student in Georgetown's Master of Science in Foreign Service (MSFS) Program and a fall intern with the United Nations Framework Convention on Climate Change (UNFCCC) Secretariat, helped organize discussions with climate experts and got a front-row seat to climate negotiations — a career path she hopes to pursue.
"Seeing the negotiations firsthand was a big goal for me, and being able to be involved in the negotiations made me so excited to continue studying these topics at Georgetown and then pursue a career in this field," she says.
Negotiating the Details
Georgetown sends a delegation of faculty, students and staff to COP each year, a process overseen by Joanna Lewis, Provost's Distinguished Associate Professor of Energy and Environment and director of the Science, Technology and International Affairs Program (STIA), who previously worked to accredit the university as an official observer at the conference.
Lewis, an expert on international climate and clean energy policy and lead author of the Intergovernmental Panel on Climate Change's Fifth Assessment Report, decided to pursue a career in climate change after attending COP early in her career, and since joining Georgetown, she's wanted to share the experience with students and community members too.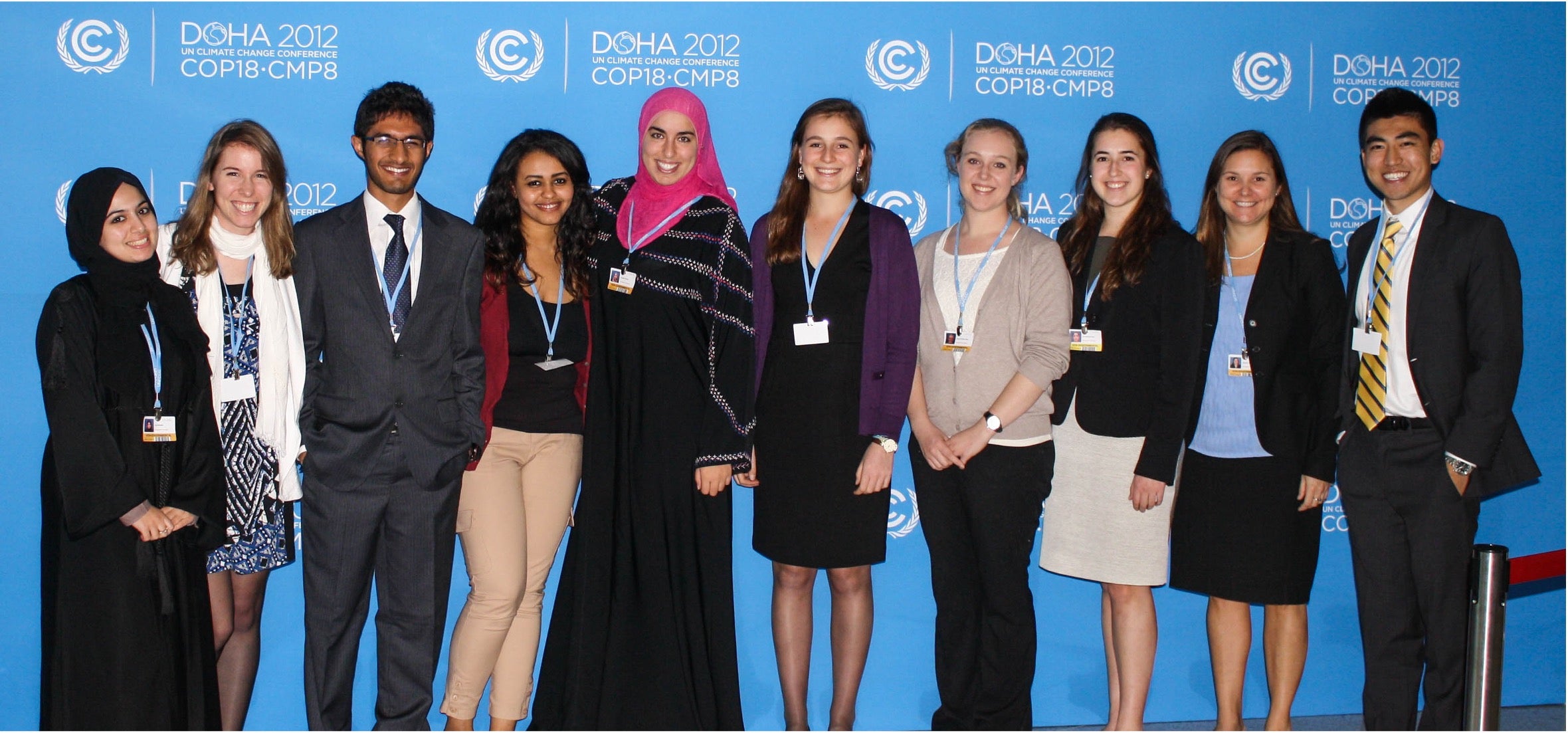 "When I went to my first [COP] as a graduate student, it was really eye-opening to understand what this international process to negotiate on international climate treaty is," says Lewis. "It was really formative for me in helping me decide to go into this field, and it's where my research is focused now."
Ide found her career goals of being a climate negotiator reinforced at the conference. As an intern at UNFCCC, Ide works on the global stocktake of the Paris Agreement — the process in which leaders evaluate progress made on the agreement's long-term goals every five years. At COP27, she helped manage the logistics of the stockade's technical dialogue, in which participants discussed how to accelerate progress toward Paris Agreement goals, and assisted with climate negotiations that, while tedious, shape the details of global action.
"I like that challenge and addressing it requires all the skills I'm most interested in developing, like mediation, negotiation and relationship-building," Ide says. "I've gotten a strong foundation in these topics from my time at Georgetown, and that helped me feel prepared and able to engage on these topics while I was there."
After viewing the negotiations firsthand, Ide is eager to rethink the frameworks the international community uses to make decisions and implement solutions: "It's definitely something that I'm going to be continuing to study at Georgetown and after," she says.
Ide was joined by seven other Georgetown graduate students who attended the conference, including Sam Schwartz from MSFS and Kai McGuire from Asian Studies. Schwartz and McGuire, who are both in Lewis' class on international climate negotiations, Zoomed into their class on the Hilltop to report back on their experiences live from Egypt during the second week of the conference, while Ide had just returned and rejoined the class in person.
The Arts and Climate Change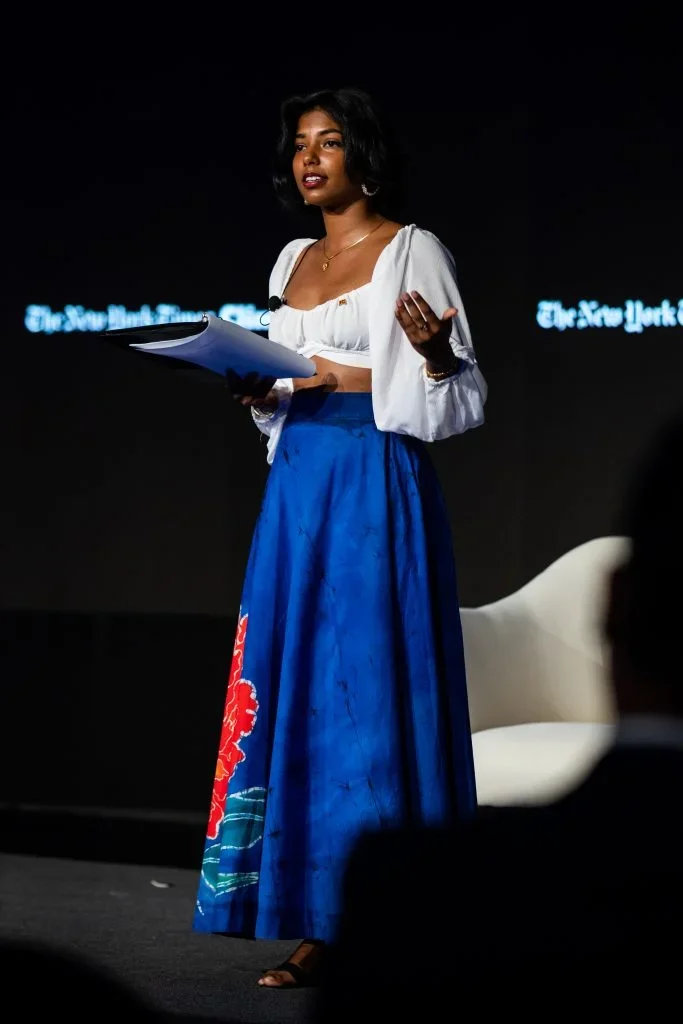 Georgetown's Earth Commons Institute and the Laboratory for Global Performance and Politics (The Lab) brought a performance piece to Sharm el-Sheikh that was developed at Georgetown and created by ​​Earth Commons' first Artist-in-Residence Caitlin Nasema Cassidy (C'11) and playwright Jacob Hirdwall.
Inspired by Greta Thunberg's urgent question "Can you hear me?," We Hear You—A Climate Archive seeks to amplify — and to record for future generations — the ways that today's young people are experiencing changes in the fundamental forces of the earth. Cassidy and ECo Fellow Ashanee Kottage (SFS'22) performed the series of short stories, monologues and prompts for audience reflection as part of the New York Times' three-day Climate Forward program.
In their performances, Cassidy and Kottage, who also serves as a research analyst for The Lab, discussed the natural landscapes in their lives that are affected by climate change. Kottage described how the apex predators in her native Sri Lanka are now threatened by monsoons and drought.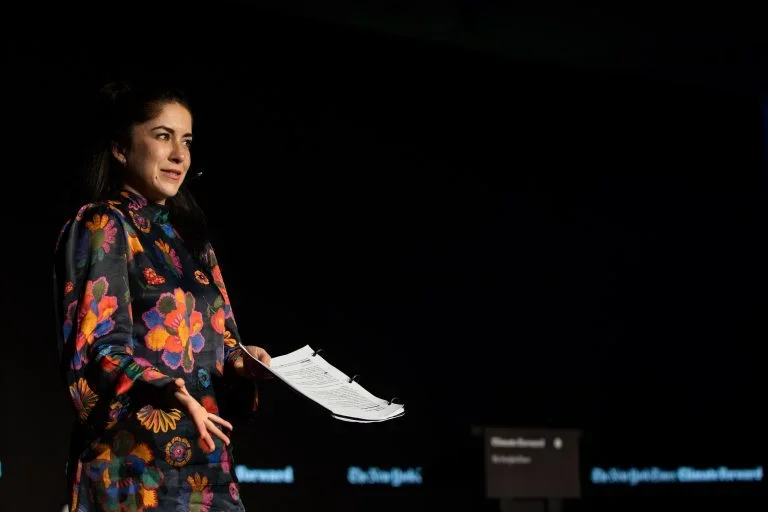 But she also invited audience members to share their personal connections to the environment and described the importance of recognizing progress in the fight against climate change – a powerful reminder for attendees, she said.
"I shared a piece on ocean optimism, which is about the strategic and psychological importance of celebrating conservation successes because people are riddled by climate anxiety and feel pessimistic and negative about the future, which is unfortunately resulting in them just resigning," says Kottage. "It's easy to forget why we're here and what we're fighting for. A lot of people came up to us afterward and thanked us for helping them connect to a larger cause."
"It's easy to forget why we're here and what we're fighting for. A lot of people came up to us afterward and thanked us for helping them connect to a larger cause."

Ashanee Kottage (SFS'22)
Women, Local Governments and Climate Security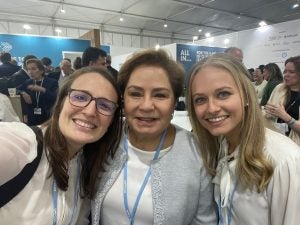 The Georgetown Climate Center co-hosted a side event on the important role of subnational governments in allocating funding and implementing policies that encourage greenhouse gas reduction, which featured government officials representing U.S. states and local jurisdictions.
And on November 11, the Georgetown Institute for Women, Peace & Security also co-hosted a side event with government, nonprofit and international development leaders about the disproportionate impacts of climate change adaptation efforts on female agricultural workers.
At the event, "Climate Security & Agriculture: Strategies for Inclusive Adaptation," policymakers announced commitments to locally-based climate-smart agriculture solutions and grassroots leaders shared strategies for ensuring an inclusive and resilient global food system. GIWPS also published a recent report that examines how women's meaningful participation in climate adaptation can be a benefit multiplier.
"We were gratified that we could put a spotlight on agriculture and climate security through women's grassroots voices at COP27. It is critical that gender issues are firmly on the climate agenda and that women – from different backgrounds – are able to lead in negotiations. While we are disappointed that no progress was made in limiting fossil fuel emissions, it is promising to see progress on a Loss and Damage Fund," says Melanne Verveer, executive director of GWIPS.
Editor's Note: The featured photo is by Craig Gibson.
"It is critical that gender issues are firmly on the climate agenda and that women – from different backgrounds – are able to lead in negotiations."

Melanne Verveer, executive director of GWIPS
This article was originally published by Georgetown University. Please follow the link to read the full story.