Georgetown Named No. 1 Producer of Fulbright Student Scholars in the U.S.
Georgetown students and alumni won the highest number of Fulbright scholarships out of any other college or university in the U.S. for the 2022-2023 academic year, the State Department announced Feb. 10.
A record 49 undergraduate, graduate, doctoral students and alumni were selected for the Fulbright Program, the world's largest international educational exchange program. These Hoyas joined this year's cohort of nearly 2,000 recent graduates and early career professionals and are studying, teaching English and conducting research in 31 countries.
"We are deeply honored by this distinction and are enormously proud of the students and alumni who were selected this past year, continuing our community's long tradition of service in the Fulbright program," Georgetown President John J. DeGioia said.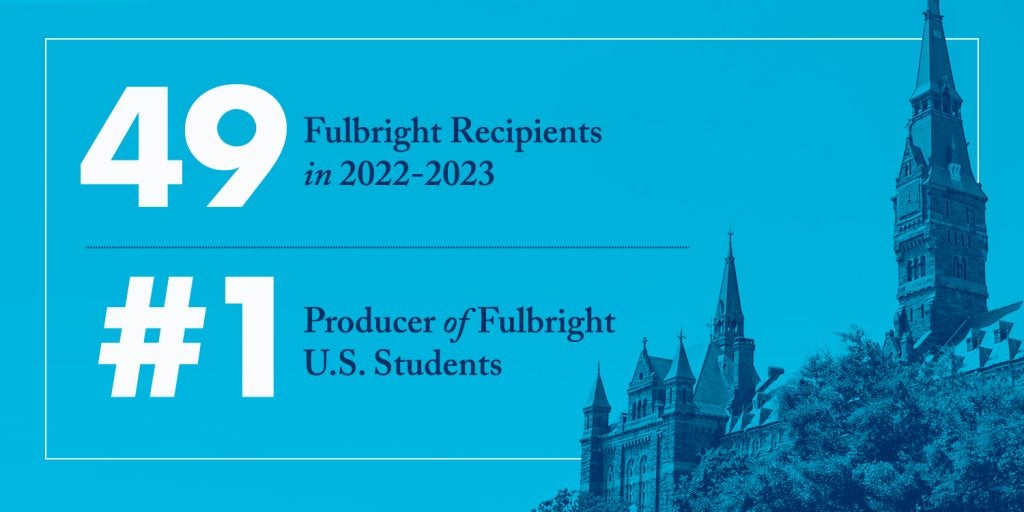 A Record-Setting Year for Fulbrights
Georgetown was named the top producer of applicants selected for the Fulbright U.S. Student Program, and also led in the Fulbright's doctoral category. This is the third time the university has ranked No. 1 in the past five years, including consecutive placements in 2020 and 2021.
Over the Fulbright Program's history, 543 Hoyas have participated to help foster connections between countries and address global challenges.
The undergraduates, graduates and recent alumni awardees for the 2022-2023 academic year represent the Walsh School of Foreign Service, McDonough School of Business, the College of Arts & Sciences, the former School of Nursing & Health Studies, Biomedical Graduate Education and the School of Continuing Studies. Georgetown students and alumni who accepted the grants are engaging in work and studies across six continents.
"Their contributions, and the work of our faculty and staff to support them, reflects our university community's deep commitment to global engagement," DeGioia says. "I wish to offer my most sincere congratulations to each of these 49 students and alumni and my appreciation for their dedication to our international community."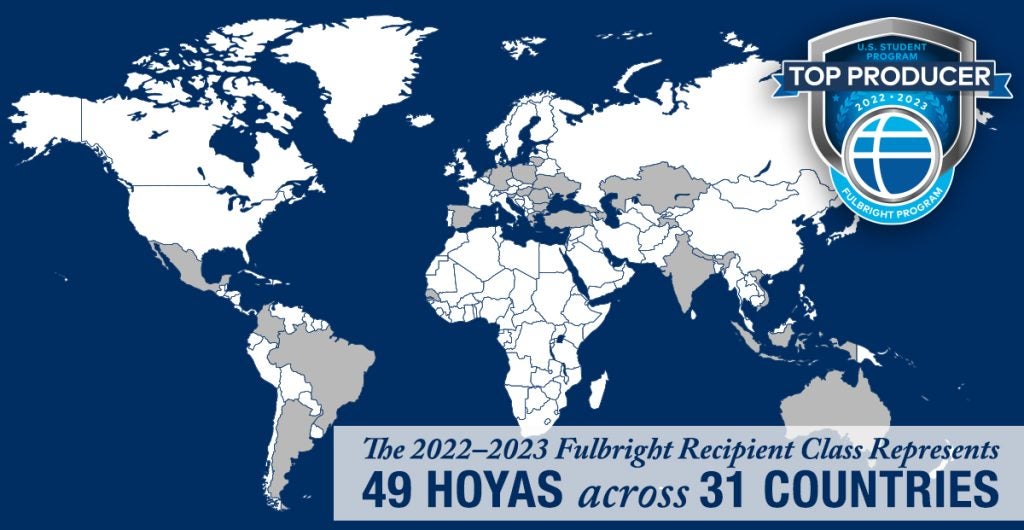 "Recognition for this achievement goes directly to our outstanding students and alumni who applied for a Fulbright on the belief that cultural exchange is fundamental to expanding mutual understanding and striving toward a more peaceful and tolerant world," says Lauren Tuckley, director of Georgetown's Center for Research and Fellowships.
Bringing Hilltop Studies to Classrooms in Poland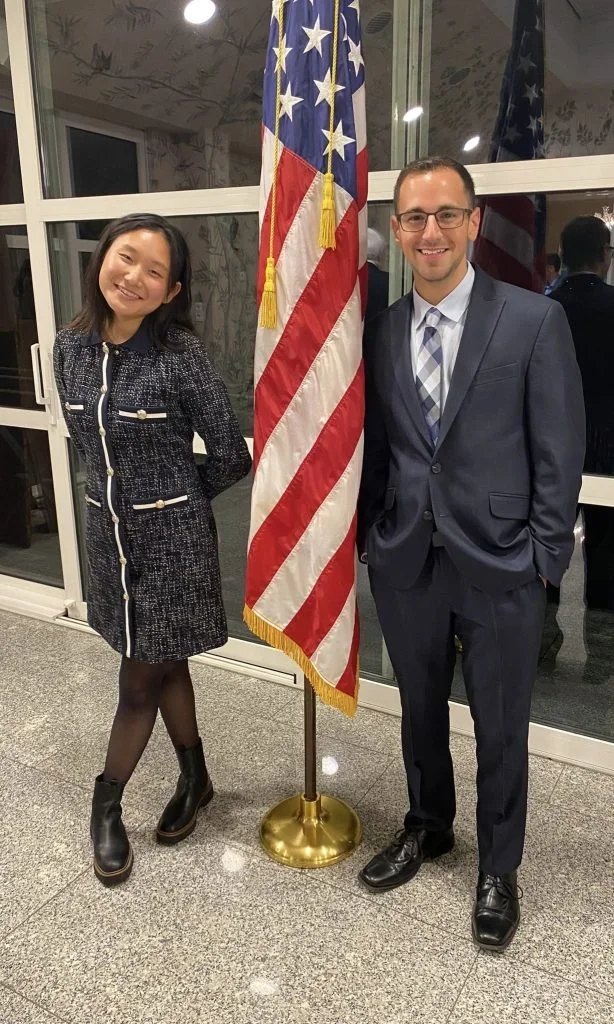 Daniel Breslow (SFS'22), one of this year's Fulbright recipients, is teaching courses in English and writing to undergraduates and adult learners at the University of Białystok in Poland.
At Georgetown, Breslow majored in Eurasian, Russian and East European Studies (ERES), an immersive, cross-discipline experience that prepared him well for his current classroom, he said.
"The quality of my ERES background has been proven time and time again in my classroom," he says. "The Fulbright has given me the opportunity to learn from the people and in the places that I studied for four years in the classroom."
During his Fulbright, Breslow has connected with historians, artists and fellow Fulbright scholars in Poland. He was also recently selected to participate in a conference in March organized by the Fulbright Commission in Brussels to learn more about the structure and functions of NATO with three other Georgetown alumni. His Fulbright experience, Breslow said, has informed his interest in pursuing an advanced degree in history or political science, focusing on Central and Eastern Europe.
"Halfway through this experience, I can already say confidently that I have grown more personally and professionally in this five-month period than in any other, and will carry the 'Fulbrighter' designation proudly as a future alumnus of the program," he said. "The senses of self-reliance and self-confidence I have developed are invaluable."
"I can already say confidently that I have grown more personally and professionally in this five-month period than in any other, and will carry the 'Fulbrighter' designation proudly as a future alumnus of the program."

Daniel Breslow (SFS'22)
Breslow said the support he received from Georgetown's Center for Research and Fellowships (CRF) was particularly valuable to strengthen his Fulbright application.
Campus Support for Fulbright Applicants
Georgetown's status as a top producer of Fulbright U.S. Student awardees hasn't happened by accident.
The CRF, which guides students and alumni in pursuing a wide range of competitive national and international fellowships, introduces the Fulbright program to students through broadcast communications, in-person and virtual information sessions, and more. Once students decide to apply, the CRF maintains regular contact and matches applicants with a community of faculty, alumni, and staff volunteers who serve as mentors and help complete the campus review process.
"Center colleagues thoroughly enjoy working with students and alumni as they conceptualize and develop their Fulbright applications," Tuckley said. "None of this would be possible without the generosity of so many faculty and supportive individuals who serve in a critical mentorship role during the application process. We cannot express enough gratitude to the volunteers who commit their time and energy to aspiring Hoya Fulbrighters each year."
The university's campus culture of academic rigor, undergraduate research, global engagement and intellectual curiosity also play a role in this achievement.
"We are lucky to have talented students who make use of Georgetown's experiential learning opportunities to not only enrich their academic and professional careers but to work toward making a difference in the world," Tuckley says.
Preparing for Tsunamis and Volcanoes in Tonga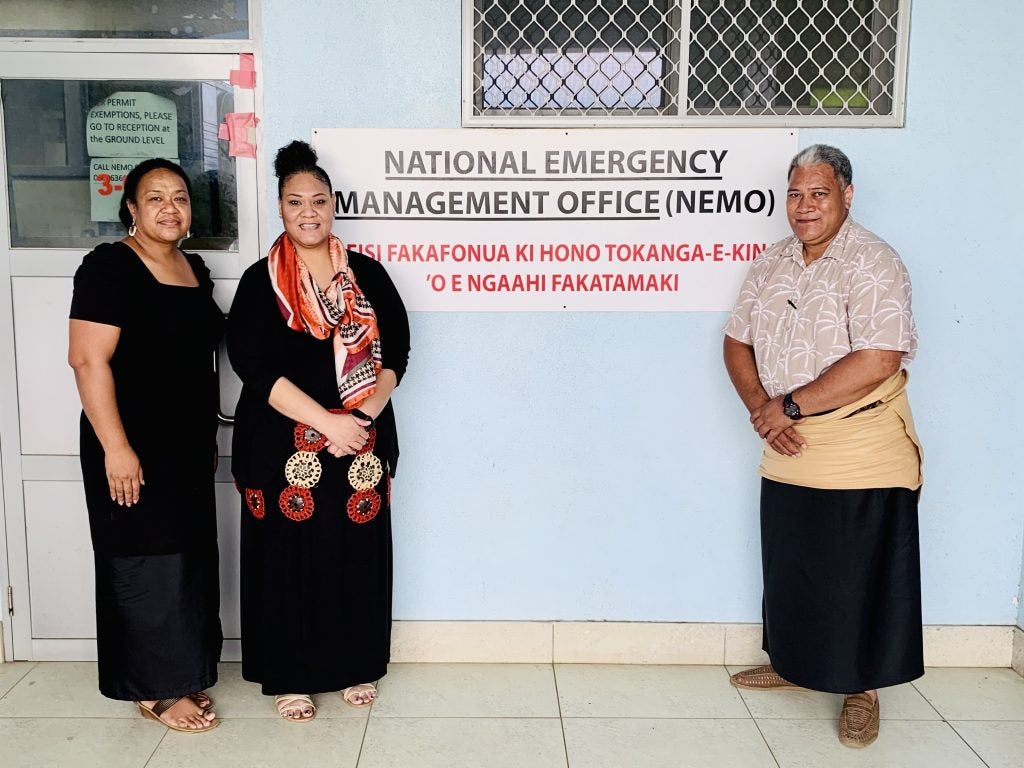 Lavinia Taumoepeau-Latu (G'23) started her Fulbright fellowship in early January in Tonga, the country where her parents emigrated from.
Taumoepeau-Latu, 49, is developing a first-of-its-kind curriculum to train new district and town officers stationed across Tonga on their roles and responsibilities. She's tailoring the curriculum to the local language and Tongan concepts and beliefs for trainees, who typically receive more western-based training, she said.
This was not the Fulbright research project that Taumoepeau-Latu set out to do. But she realized how needed it was while visiting the island five years earlier.
In 2018, Taumoepeau-Latu was in Tonga when the tropical cyclone Gita, a category four storm, touched down. After witnessing the island's devastation, Taumoepeau-Latu found herself unable to leave. She began working as the safety and protection cluster coordinator for the Tongan government, where she helped lay the groundwork for disaster management in Tonga's Ministry of Internal Affairs. She also realized there were gaps in policy and procedures on-the-ground and in the government in providing disaster relief.
"It was eye-opening for me," she said. "I really found my passion for policy and helping people in need during those times."
A Full Circle Moment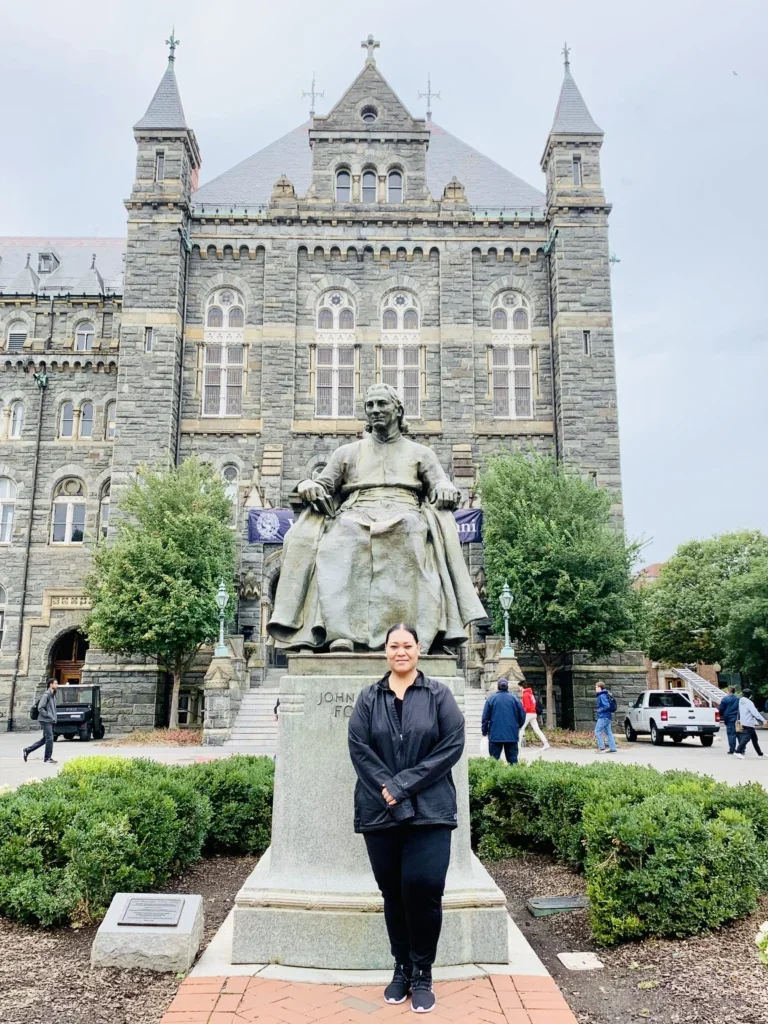 When Taumoepeau-Latu, a first-generation college student, returned to the U.S., she applied to Georgetown's International Executive Master's in Emergency and Disaster Management program and began preparing her application for the Fulbright, hoping to return to Tonga and create a cultural curriculum and disaster management plan for areas affected by recent volcanic eruptions and tsunamis.
Taumoepeau-Latu started her Fulbright in January of this year, and quickly learned that first, a broader training for all district and town officers across the islands was needed — a gap she had noticed when working in Tonga earlier.
"I'm just in awe," she says of her experience. "It's been an amazing experience and opportunity to be here, seeing recovery efforts and how other countries responded to Hunga Tonga Hunga Ha'apai. And now, this project is about how the whole of Tonga can benefit from this type of curriculum rather than just the scope of where my project was going to be in the beginning."
"I hope that the Fulbright will help me to lay groundwork for my own family, but also for others who might want to learn more about their roots or do something meaningful for where they came from."

Lavinia Taumoepeau-Latu (G'23)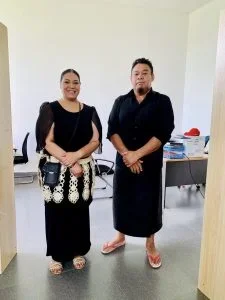 She's found that her Georgetown courses have informed her research in real time. And she's found a deeper connection to her Tongan heritage and sense of belonging. One of her ancestors helped establish the first men's college in Tonga. For Taumoepeau-Latu, this moment feels full circle.
"It means a lot to be able to be here on a Fulbright creating a curriculum for district and town officers," she says. "Besides my kids, the crowning glory of my whole life is to give back to my roots, knowing my family had a part in building up education in this country.
"I hope that the Fulbright will help me to lay groundwork for my own family, but also for others who might want to learn more about their roots or do something meaningful for where they came from."
Contributing writers included Karen Doss Bowman, who wrote about Georgetown's Fulbright Legacy for the Fall 2022 edition of Georgetown Magazine.
This article was originally published by Georgetown University. Please follow the link to read the full story.