Georgetown to Launch Bachelor's Degree Program at Maryland Prison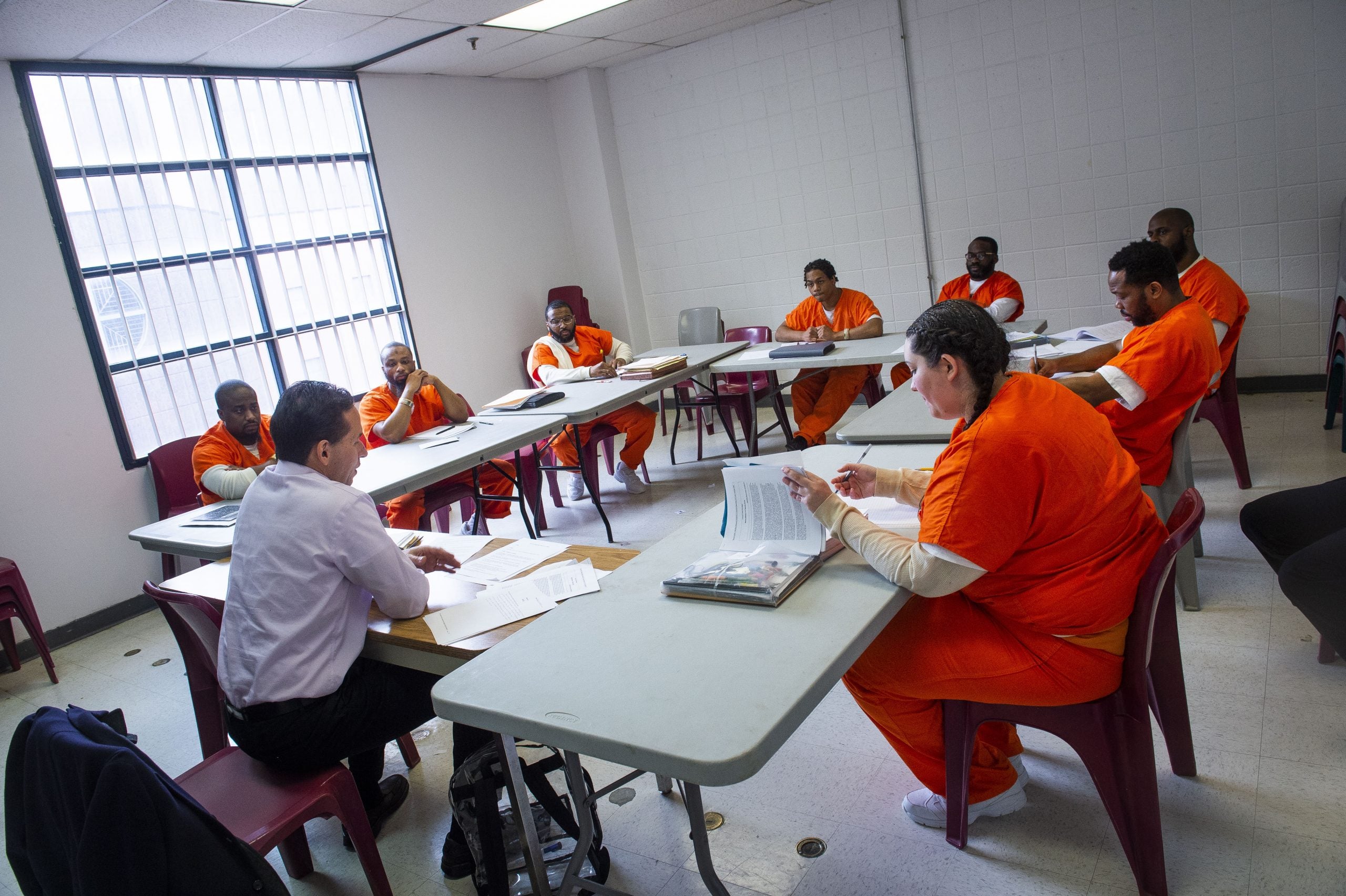 The Georgetown Prisons and Justice Initiative (PJI) will introduce a full bachelor's degree program for 25 aspiring students incarcerated at Patuxent Institution in Jessup, MD, in the next academic year. The new program expands on PJI's efforts to bring credit-bearing Georgetown courses to incarcerated students through its Prison Scholars Program, which has offered a non-degree program at the DC Jail since 2018.
The program creates a transformational education experience for highly motivated people during their incarceration. After their release, many returning citizens struggle to find employment due to their criminal record, lack of formal education and large gaps in their resumes. The Prison Scholars Program equips them to overcome these hurdles and creates a pathway to financial stability and socioeconomic mobility.
"We are excited to build upon the success of the Prison Scholars Program and provide an opportunity for students to earn a college degree while incarcerated," said Marc Howard, director of PJI. "A degree from Georgetown and the interdisciplinary coursework behind it will prepare our graduates to reenter their communities and the workforce with pride in their academic achievements."
More than 150 people incarcerated at the DC jail have participated in the Prison Scholars Program, both through credit-bearing and non-credit courses. The expansion of the program is funded by a $1 million three-year grant from the Andrew W. Mellon Foundation and is further supported by Georgetown alumnus Damien Dwin. As a designated Second Chance Pell Experimental Site, Georgetown can offer Pell Grants to support the education of qualified incarcerated students.
Cecily Burge (C'21), who is a teaching assistant for PJI and made an Award Winning documentary for the course Making an Exoneree, says that her time with the initiative was the most formative part of her undergraduate experience and she is excited that the program is continuing to expand.
"I met incarcerated role models inside the D.C. jail and I am so grateful for all the opportunities PJI affords outside students and incarcerated scholars alike," says Burge. "I will always be inspired by the ways the people I have met through the program have converted struggle and disappointment into ambition and change––and continue to use their experiences to build a world more humane."
Academic excellence in prison classrooms
The bachelor's program is modeled after Georgetown's on-campus undergraduate programs and brings the university's academic caliber and rich history of liberal arts in the Jesuit tradition to incarcerated students.
"Our goal is to provide the same rigorous, demanding courses of study inside of the prison that make a Georgetown education world-class," says Joshua Miller, director of education at PJI. "Incarcerated students have repeatedly shown that they can rise to the challenge. Combined with their talent and unique insight, this degree program will help Prison Scholars become future leaders in criminal justice reform."
Students will earn a degree in liberal arts with a wide selection of interdisciplinary coursework. After completing the core requirements, students will tailor their degree program to one of three majors: cultural humanities, interdisciplinary social science, and global intellectual history. The degree requires 120 credit hours, and students are expected to complete the program in about five years. To help them throughout their education, they will have access to resources including academic support, library and research assistance and career counseling, as well as comprehensive reentry services.
Georgetown President John DeGioia said expanding the Prison Scholars Program is the next step in the university's decades-long history of prison education and outreach.
"As a University, we have a responsibility to advance the common good and empower the members of our community to share in this important work," says DeGioia. "As a Catholic and Jesuit institution, this commitment has been a long-standing element of Georgetown's mission, and I'm grateful that this expansion of the Prison Scholars Program will ensure that future leaders who are currently incarcerated will be able to access the Georgetown academic experience as members of our community."
Admission to the program will be competitive. PJI will accept applicants from across the state prison system and evaluate them based on preparedness, motivation and potential to succeed in the program through both admissions exams and interviews. Applicants must have a high school diploma or GED.
The statewide admissions process is possible thanks to a close partnership with the Maryland Department of Public Safety and Correctional Services (DPSCS), which oversees about 18,000 people. Those selected from other facilities will be transferred to Patuxent Institution to begin classes with the rest of their cohort.
Equipping students for success
The Prison Scholars Program seeks to be a model for successful reentry and reintegration, demonstrating that college education in jails and prisons reduces recidivism and costs, creates safer communities and stronger families and greatly enhances the employment prospects of returning citizens.
In opening its doors to Georgetown faculty and the Prison Scholars Program, DPSCS furthers its own efforts to provide rehabilitative opportunities for incarcerated people. Patuxent Institution has a long history of offering the state prison system's most robust rehabilitation and treatment programming.
"We welcome the opportunity to offer higher education from a prestigious university within our corrections system," said Robert Green, Maryland's Secretary of Public Safety and Correctional Services. "The Prison Scholars Program opens doors from incarceration to employment and will help its students contribute positively to their communities post-release."
This article was originally published by Georgetown College. Please follow the link to read the full story.