Georgetown's New CAPS Director on Her Vision, Out-of-the-Box Thinking and Advice for 2022
Durriya Meer, Ph.D., a licensed psychologist with more than 20 years of experience in higher education counseling and psychology, has joined Georgetown as the new director of Counseling and Psychiatric Service (CAPS). She begins her new role today, Jan 24.
Most recently, Meer has worked as the associate director for doctoral psychology internship and staff psychologist at Johns Hopkins University. Formerly, she trained psychology interns and provided therapy and crisis intervention for students at the University of Michigan for 13 years.
"I am very excited to welcome Dr. Durriya Meer to the Georgetown University community," says Kathryn Castle, assistant vice president of student health. "Dr. Meer has spent the majority of her professional life working in university counseling centers in roles ranging from trainee to program leadership, and she is acutely aware of the changing mental health needs of university students. In addition, as a clinician and leader, Dr. Meer brings a collaborative and inclusive spirit that is such a wonderful match for Georgetown and will greatly enhance our community."
Nontraditional Path to Psychology
Meer has a self-described nontraditional path to psychology and counseling in higher education. Raised in Bangladesh, she received her bachelor's in psychology from Sophia College in Mumbai, India, and from New Mexico State University in Las Cruces, New Mexico. After graduating with her master's in psychology from Illinois State University, she worked as a psychotherapist at a community mental health center in rural Illinois.
"It was a town of 4,000 people, and I used to say, 'I'm 4,001 and the only one with black hair,'" she said.
Meer returned to Bangladesh, where psychology opportunities were almost nonexistent at the time. So she began working as a travel and ticket agent for Lufthansa Airlines, where, she says, she learned how different each client is, and then at an American Express bank. In 1994, she began teaching psychology at a new private university in Bangladesh, and while there, lobbied for and built the first counseling center in the country. The experience was formative in shaping her long-term interest in higher education counseling and psychology.
"For me, what was most important was helping that one student who didn't have anywhere else to go," she says.
After six years, she returned to the U.S. for her doctorate in clinical psychology and continued her career at the University of Michigan.
Global Lens and Multicultural Specializations
Meer's multicultural upbringing has informed her clinical work and focus areas of violence against women, bi-cultural identity development, family of origin and relationship concerns. She is fluent in Hindi, Urdu, Bangla and Gujarati, and specializes in working with students of color, international students, and Muslim, Asian, and Asian American students. In the spirit of Georgetown's Jesuit value of cura personalis, Meer says she sees every client as unique, made up of different gifts, needs, cultural backgrounds and identities.
"I see every client as a mosaic. Every piece has its place, and you put them together and it becomes such a beautiful and rich tapestry. Where are the threads frayed? Where are the threads holding strong? To me, the individual and their collective are equally important."–Durriya Meer
In a recent interview, Meer shared more about her multicultural background, her vision for mental health at Georgetown and advice for approaching well-being in the new year.
Q&A with Durriya Meer
What would you like the Georgetown community to know about you?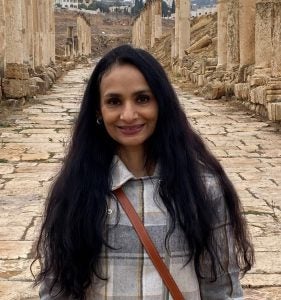 I'm very nontraditional. It's hard to fit me into a box. I see that as my pride and strength, but it has its challenges. I identify as a South Asian Muslim woman and as a cis-het [cisgender and heterosexual] woman. I'm from Bangladesh, and I came to the U.S. in 1987 when there weren't many international students from South Asia, especially in psychology. I broke some taboos there. To South Asians, I'm too Americanized. To Americans, I'm too South Asian, so I've had to straddle two worlds. This has made me very adaptable and flexible, and it informs my work: I have a special interest in working with students who are navigating conflicting identities. For example, those who are Muslim and are exploring their sexual orientation.
My perspective is also very global. I've lived in four different countries, and I've worked in two of them. I've traveled a lot, which has helped expand my horizons and perspective on life. With the students we work with, I often think about how events in the U.S. create ripple effects in the countries where they're from, and how events in their countries impact us in the U.S.
What attracted you to this position at Georgetown?
What really attracted me to Georgetown is your homepage. There is a link to mental health resources there. I've worked in many universities, and I have never seen that. To me, that said that Georgetown values and supports the mental health of their community.
I also had a fantastic interviewing experience and could tell that there is a strong focus on relationships at Georgetown. I always trust my intuition, and it led me here.
You've had many years of experience in higher education and in psychology and counseling. How has your background informed your vision for your work at Georgetown?
Since I started in the 1980s, there has been such an enormous lessening of stigma around mental health. This has opened so many doors and allowed for out-of-the-box thinking. Students don't have to always come to us physically; we can meet with them virtually. We can do so much through drop-in groups, outreach, peer-counseling, group therapy, technology. It's an exciting time to innovate, to explore, to be creative and flexible in understanding the needs of students today.
Students come in with so much in their backgrounds already, and education and awareness about mental health and resources on campus are critical. I think that awareness has to come from the top down and from the bottom up. I see a lot of value in educating different parts of the university and collaborating not just with students and faculty but with teaching assistants, graduate assistants, tutors, staff at all levels.
"We need to look outside of CAPS to see how we can collaborate and integrate so that eventually, there are ambassadors of mental health everywhere."

Durriya Meer
We often think of the new year as being a clean slate, but this year feels murkier as we face another strain of COVID-19. What advice do you have for students and faculty in caring for their well-being and mental health at the start of this year?
I think the best resolution we can make is to take advantage of the present. There are so many factors beyond our control, but we do have control within the parameters and circumstances of our life.
Maybe you want to take a solo trip somewhere. Maybe there is a book or a skill you would love to learn and never had time. Take advantage of the moment that you have. The present is called a present for a reason. It's a gift. You've been handed this gift of 24 hours. So what do you do with it? You have the strength, and you've come this far. What are the strengths that you can capitalize on today, right now, this minute?
The other message I want to share with the Georgetown community is to never be afraid to reach out. We are all interdependent. Nobody is really alone. Even if you're sitting in your room alone, there's someone outside the door who can help you not feel lonely. There are ways we can connect on Zoom. Things are strange right now, but we have to think about what we can do given these circumstances. We may be physically distanced, but we are never socially distanced.
"We are not islands. We are all tied together."

Durriya Meer
This article was originally published by Georgetown University. Please follow the link to read the full story.