GIWPS participates in the 53rd session of the Human Rights Council in Geneva 
By: GIWPS | June 29, 2023
The Georgetown Institute for Women, Peace and Security (GIWPS) participated in the 53rd session of the Human Rights Council, an annual convening in Geneva run by an intergovernmental body within the UN system.
For the first time, GIWPS joined the session in person and co-organized three events on women's roles in Afghanistan and Ukraine: Ensuring Women's Role in Afghanistan's Future; Violations of Women and Girls' Rights to Education and Work; and Updated National Action Plan 1325 in Ukraine.
"Our role at The Human Rights Council was to make clear that gender equality is central to the protection of human rights, the functioning of democracy, and the achievement of lasting peace and security around the world," said Jess Keller, GIWPS Policy and Program Manager. "We at GIWPS are working to ensure that policies, investments, and new commitments do not neglect women on the frontlines—and the contributions and solutions they offer."
---
Ensuring Women's Role in Afghanistan's Future
Together with the United States Mission in Geneva, GIWPS convened Afghan women from inside the country and living in exile to reflect on measures to hold the Taliban accountable for their human rights abuses and advance Afghan women's meaningful participation in all future engagements.
"As the Taliban further entrench themselves, we must not allow this systematic exclusion to become the norm and, as a global community, must endeavor to restore Afghan women's human rights by ensuring their participation in all engagements and holding human rights violators accountable for their abuses," said Shaharzad Akbar, Executive Director for Rawadari and Former Chairperson of the Afghanistan Independent Human Rights Commission.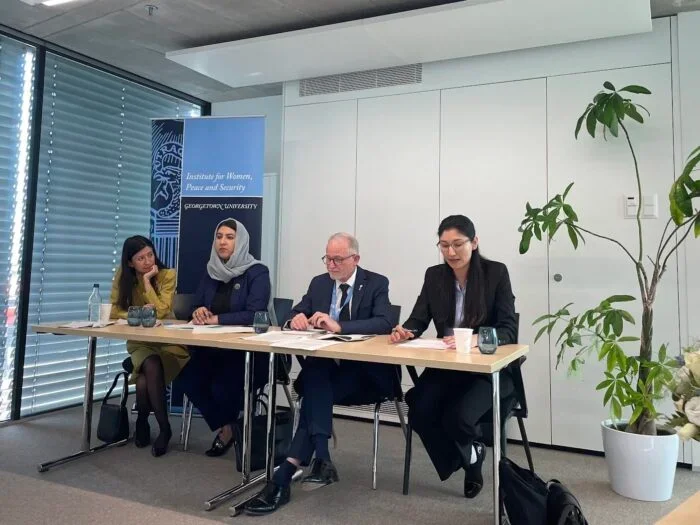 During the June 19 event, experts shared their recommendations to combat the exclusion of women from Afghan society under the Taliban.  
"The time for action is now. If we do not stand up against the systemic discrimination against women in Afghanistan, we put in peril the rights of women everywhere," said U.S. Permanent Representative to the UN Human Rights Council Ambassador Michèle Taylor. 
"I am not often on a panel with three Afghan women and I have to say it's a massive honor," said Special Rapporteur on the Situation of Human Rights in Afghanistan Richard Bennett.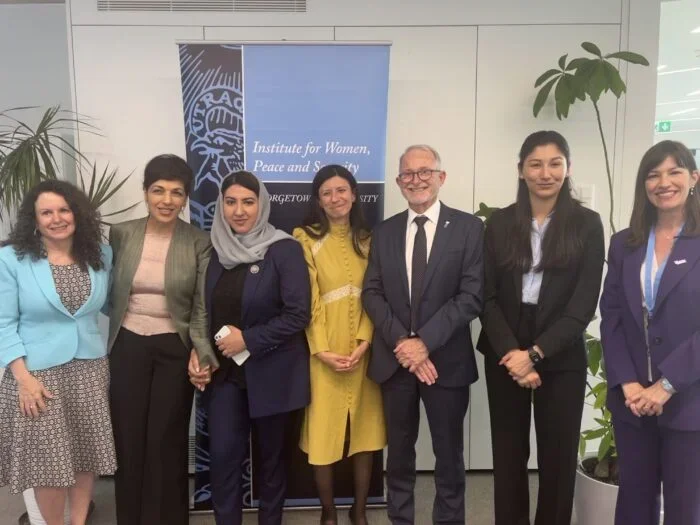 Rina Amiri, U.S. Special Envoy for Afghan Women, Girls, and Human Rights, spoke about long and short-term solutions to ensure women's participation in Afghan society. 
"We need to understand the past to forge a path in the future. We need an approach with a short term, medium term, and long-term strategy; ensuring that this time it is not three steps forward, two steps back, but owned by Afghans and intertwined with Afghan society," she said.
---
Violations of Women and Girls' Rights to Education and Work: The Case for Gender Persecution in Afghanistan
GIWPS co-sponsored a second event on Afghanistan focused on the devastating impacts of violations of women's right to education and work in partnership with the Embassy and Permanent Mission of Afghanistan in Geneva and Permanent Mission of Spain, in collaboration with the Permanent missions of Switzerland, Belgium, Iceland, and the Delegation of the European Union.
"We all have to put our efforts together for a mechanism that should hold the Taliban accountable for their deeds," said Former Vice-President of the National Assembly of Afghanistan Fawzia Koofi. "They have taken women of Afghanistan hostage, people of Afghanistan hostage. We must end the culture of impunity together, so that tomorrow, this does not knock on your own doors."
Speakers underscored that the international community should pursue accountability as its priority, help protection efforts, and promote women's rights and inclusion. They also explored avenues for effective action, including documentation for the purpose of future accountability efforts.
---
Updated National Action Plan 1325 in Ukraine
GIWPS also co-organized an event about the protection of diverse groups, especially women and girls, affected by Russia's full-scale invasion of Ukraine and the recovery processes. Speakers also discussed how the Government of Ukraine, women's civil society organizations (CSOs) and development partners can work together to identify and respond to human rights challenges.
The event included a presentation of the revised National Action Plan (NAP) on UN Security Council Resolution 1325, which the Government of Ukraine—in cooperation with various partners—updated in 2022. The updated NAP 1325 highlights the role of women as actors and agents in the conflict settlement and post-war recovery of the country and reinforces the critical role women's CSOs play, including in the area of post-conflict recovery and assistance to survivors of violence.
"Without gender integration and gender mainstreaming, recovery will not be effective," said Kateryna Levchenko, Ukraine Government Commissioner for Gender Equality Policy. 
Speakers discussed concrete actions to ensure the voice of women and civil society organizations are visible in all aspects of the war and recovery process, and new steps that the international community can take to promote gender equality and women's and girls' full enjoyment of human rights.
"The strength of Ukraine is a powerful civil society," said Ulyana Tokareva, Deputy Minister of Social Policy of Ukraine.
"Women and civil society must play a critical role in Ukraine's post-war recovery, placing gender equality and women's meaningful participation at the forefront of the recovery efforts," said Executive Director of GIWPS Ambassador Melanne Verveer. "Transition from war to recovery provides an opportunity to build forward, but recovery will be realized only if women and civil society are fully involved in the rebuilding."
This article was originally published by the Georgetown Institute for Women, Peace and Security. Please follow the link to read the full story.