MSCHE Working Group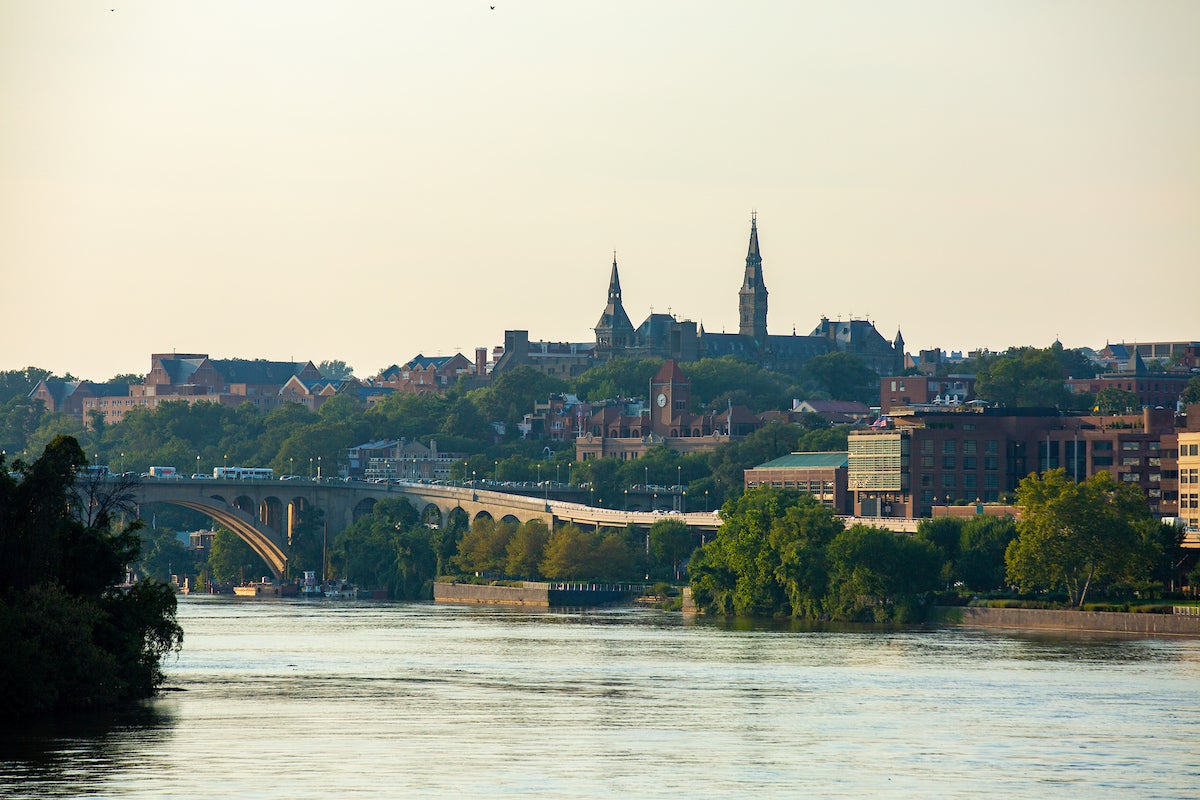 May 1-4th, 2022
---
Working Group #1: Priority #1 | Research Excellence and Interdisciplinary Capacity to Address Complex Problems
Charge: Working Group #1 will be responsible for collecting and analyzing Georgetown's capacity to build the University's research infrastructure, through interdisciplinary engagement, student experiences, and its academic programs.
Name
Title
Billy Jack (Chair)
Vice Provost for Research and Professor of Economics
Kathryn M. de Luna (Vice Chair)
Associate Professor,
Department of History
Alexander Sens
Interim Dean, Graduate School of Arts & Sciences & 
Professor of Hellenic Studies
Department of Classics
Jeremy Koons
Professor, Department of Philosophy
Georgetown University-Qatar
Greg Klass
John Carroll Research Professor of Law
Law Center Faculty
Mike Bailey
Professor & Director of the Data Science for Public Policy Program
Department of Government
Elliott Crooke
Professor & Department Chair for Biochemistry, GUMC Academic COO, Sr. Associate Dean, Faculty and Academic Affairs
Robin Dillon-Merrill
Professor and Area Coordinator for the Operations and Information Management Group in the McDonough School of Business
Jan LaRocque
Associate Professor
Department of Human Science
Jennifer Woolard
Associate Professor
Department of Psychology
Ryan Johnson
Lauinger Library
Head of Research Services
Shweta Bansal
Associate Professor
Department of Biology
Nicoletta Pireddu
Professor
Inaugural Director, Georgetown Humanities Initiative
Peter Turkeltaub
Assistant Professor of Neurology
Director, Aphasia Clinic at MedStar National Rehabilitation Hospital
---
Working Group #2: Priority #2 | Curricular Excellence, Innovation and Effectiveness
Charge: Working Group #2 will engage in self-evaluation of Georgetown's effectiveness at creating a transformative, equitable and inclusive learning experience in undergraduate and graduate education. The Working Group will explore how well the University is preparing students to become transformative leaders and agents of positive change.
Name
Title
Randy Bass (Chair)
Vice President, Strategic Education Initiatives
Jeanine Turner (Vice Chair)
Professor
Communication, Culture, and Technology (CCT)
Sarah Stoll
Professor
Department of Chemistry
Kai Henrik Barth
Senior Assistant Dean for Research Support 
Georgetown University – Qatar
Donna Morrison
Associate Professor
McCourt School of Public Policy
Lisa Kahn
Assistant Dean, Academic Affairs
McDonough School of Business (MSB)
Margaret Granitto
Instructor, Department of Nursing
School of Nursing and Health Studies (NHS)
Shenita Ray
Vice Dean 
School of Continuing Studies (SCS)
Mark Giordano
Professor of Geography 
Edmund A. Walsh School of Foreign Service
Eddie Maloney
Executive Director, 
Center for New Designs in Learning and Scholarship (CNDLS)
Thomas Banchoff
Vice President for Global Engagement
Craig Rinker
Director, Office of Global Education
Andria Wisler
Executive Director, Center for Social Justice Research, Teaching and Service and Associate Teaching Professor of Justice and Peace
Ali Arab
Associate Professor
Department of Mathematics and Statistics
Marilyn McMorrow
Associate Teaching Professor
Department of Government
Jessica Jones
Associate Professor
Department of Biochemistry and Molecular & Cellular Biology
---
Working Group #3: Priority #3 | Improving the Student Experience: Graduate and Undergraduate
Charge: Working Group #3 will be charged with conducting a thorough investigation of Georgetown's commitment to creating and sustaining a vibrant living and learning community, from admission through graduation, that strengthens the student experience, promotes individual and communal well-being, and better integrates academic, residential, and social life.
Name
Title
Todd Olson (Chair)
Vice President of Student Affairs
Maria Snyder (Vice Chair)
Associate Dean of Academic Affairs 
Graduate School of Arts and Sciences
Thom Chiarolanzio 
Senior Associate Dean, Undergraduate Programs
Georgetown College
Brendan Hill
Senior Associate Dean for Students 
GU-Qatar
Patricia Grant
Associate Dean, Undergraduate Program
McDonough School of Business
Nirmala Fernandes
Director of Academic Affairs
McCourt School of Public Policy
Joan Riley
Engelhard Senior Scholar & Associate Professor,  Department of Human Science
Michael Canter
Senior Associate Dean, Students and Academic Operations
School of Continuing Studies (SCS)
Mitch Kaneda
Senior Associate Dean & Director
School of Foreign Service (SFS)
Erika Cohen-Derr
Assistant Vice President of Student Affairs
Beth Harlan
Associate Director, Career Education & Counseling 
Cawley Career Education Center (CCEC)
Adanna Johnson
Associate Vice President for Student Equity and Inclusion 
Student Affairs Office of the Vice President
Jean Daly
Associate Dean
Student Financial Services
Stephanie Lynch
Assistant Vice President for Student Affairs 
Student Affairs Office of the Vice President
Amanda Yen
College Academic Council
Fr. Greg Schenden
Director of Campus Ministry
Peter Jaworski
Associate Teaching Professor
McDonough School of Business
Jason Brennan
Professor
McDonough School of Business
Susan Mulroney
Professor and Vice-Chair
Department of Physiology
Felipe Lobo Koerich
President, SFS Academic Council
Karli Gilbert
PhD Candidate, Neuroscience
---
Working Group #4: Priority #4 | Ethics, Integrity and Mission
Charge: Working Group #4 will have the dual responsibility of reviewing all University processes and procedures to demonstrate Georgetown University's ongoing compliance with the Standards as they pertain to Ethics and Integrity. The group's additional responsibility will be to complete the Institutional Federal Compliance Report.
Name
Title
James Ward (Chair)
Associate Vice President for Compliance and Ethics
Associate General Counsel
Mark Bosco (Vice-Chair)
Vice President for Mission and Ministry
Office of Mission and Ministry
Lee Reed
Director, 
Athletics Department
Melissa Costanzi
Senior Associate Director
Undergraduate Admissions
Adam Adler
University Counsel
Office of the General Counsel
Rosemary Kilkenny
Vice President for Diversity, Equity, and Inclusion
Office of the President
Chandan Vaidya
Vice Provost for Faculty Affairs
Office of the Provost
Patricia McWade
Dean
Student Financial Services
Jamie Kralovec
Associate Director for Mission Integration
School of Continuing Studies
Bryce Badger
Vice President
Undergraduate Student Association
Karen Stohr
Associate Professor
Department of Philosophy
Kristi Graves
Associate Professor
Department of Oncology
Anne Koester
Senior Compliance Specialist/ Protection of Minors Policy Manager
Office of Compliance & Ethics
---
Working Group #5: Standard 7: Governance, Leadership & Administration
Charge: Working Group #5 will be responsible for assessing the University's governing structure, leadership, and administration to demonstrate their effectiveness in upholding the University's mission, values, and vision to execute the four institutional priorities.
Name
Title
Marie Mattson (Chair)
Secretary of the University 
Office of the President
Anthony Clark Arend (Vice Chair)
Professor of Government and Foreign Service
Chair of the Department of Government
Ian Gale
Professor of Economics
Georgetown College
David Green
Chief Financial Officer 
Administrative Services
Lisa Krim
Senior Advisor to the President for Faculty Relations 
Office of the President
Amol Dani
Vice President and Chief Financial Officer 
Office of the Provost – Main Campus 
Geoff Chatas
Senior Vice President and Chief Operating Officer
Wayne Davis
Professor of Philosophy
President, Faculty Senate
Sally McCarthy
Assistant Dean for Curriculum Design
Georgetown Law
 L. Whitman Brown
Associate Dean and Chief Operating Officer
Georgetown University Medical School
Kimberly Davis
Associate Professor
Oncology Department, Georgetown University Medical School
Ian Gale
Professor
Department of Economics