Georgetown University Community Invited to "Teach the Speech" in Honor of MLK Day 2021
Each year, as part of Georgetown University's MLK: "Let Freedom Ring!" Initiative, the Center for Social Justice encourages members of our community to reflect on one of Dr. King's famous speeches via Teach the Speech. Over the years, faculty, staff, and students across campus have participated in Teach the Speech events focusing on a wide range of speeches by Dr. King.
In 2021, the Georgetown community is invited to focus on Dr. King's 1965 speech "Our God is Marching On." In addition, all are invited to join the January 19 Teach the Speech Teach-In, featuring three mini-keynote addresses as well as a dialogue with the speakers.
See previous year's Teach the Speech events and keynote speakers below.
2013: "Letter from a Birmingham Jail"
2014: 1963 March on Washington for Jobs and Freedom
2015: "The Other America"
2016: Dr. King's Nobel Peace Prize Acceptance Speech
2017: "Beyond Vietnam: A Time to Break the Silence"
2018: "I've Been to the Mountaintop"
2019: "Remaining Awake Through a Great Revolution"
2020: "Where do we go from here?"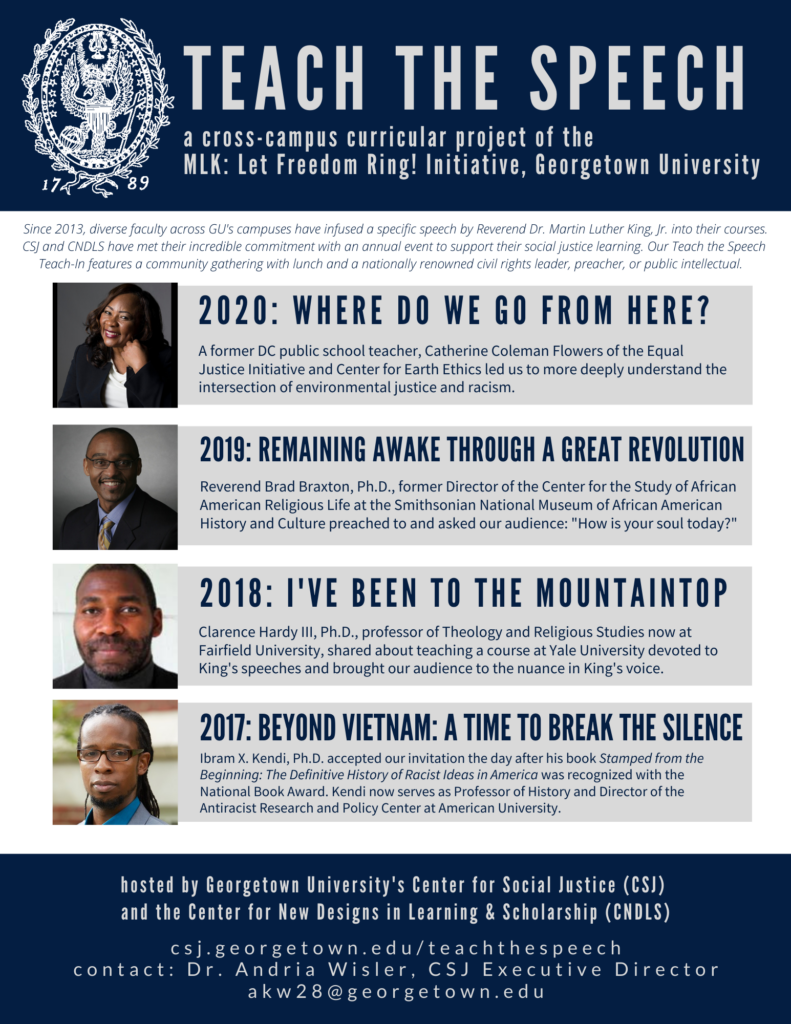 This article was originally published by the Center for Social Justice Research, Teaching & Service. Please follow the link to read the full story.