Three Georgetown Students Help Bridge the Gap Between Food Insecurity and Waste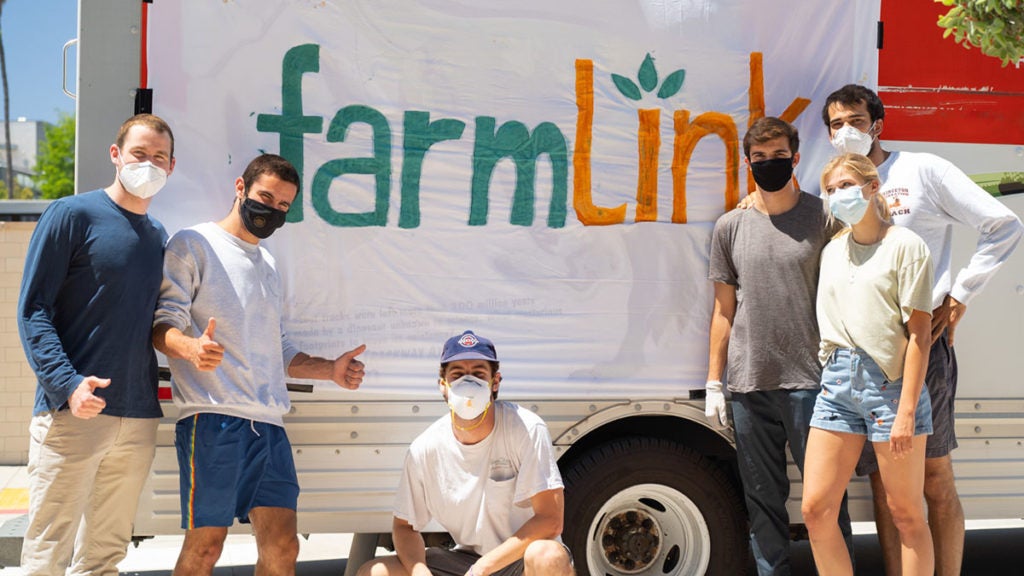 In 2018, an estimated 37 million Americans were food insecure, including more than 11 million children, according to the United States Department of Agriculture. The impact of COVID-19 on vulnerable populations who experience food insecurity is expected to grow as the demands of food banks increase. At the same time, many producers are having to waste millions of pounds of fresh produce due to reduced commercial orders.
The FarmLink Project is a grassroots charity run by college students that aims to connect farms with surplus produce and food banks with food shortages. The charity uses its donations to help employ staff and delivery truck drivers. Three Georgetown University students, Cooper Adams (B'21), Elisabeth O'Brien (C'20), and Peter DiGiovanni (C'21) are joining the fight to help bridge this gap between food insecurity and food waste.
"Taking that first step towards change is one of the hardest obstacles to overcome, but it is often the most necessary obstacle," said Adams, a management and international business major at the McDonough School of Business and part of FarmLink's engagement team.
It was that exact advice Greg Colemn (B'76), former president of BuzzFeed, gave to Adams and his class in Georgetown McDonough's "Business of the News." For Adams, taking that first step is often making his daily cold calls to farmers asking if they would like to be a part of FarmLink's mission.
"Various classes and professors at McDonough prepared me to make those connections with farmers and food banks," said Adams. "I have been profoundly impacted listening to the stories of farmers and volunteers who have dedicated their lives to their professions, and are willing to pivot their services in this time of need."
DiGiovanni is pursuing pre-medical studies, in addition to an Italian major at Georgetown. Along with his father, he grew up visiting men's shelters and food banks, where he witnessed first-hand the devastating effects of food insecurity. An avid gardener, he also understands the value of having access to fresh produce. FarmLink created the perfect environment for him to merge his two passions. DiGiovanni currently directs the transportation protocol at FarmLink, with an emphasis on aiding hospitals within the healthcare systems.
"We are constantly discussing how FarmLink can create the most meaningful impact that is relevant to these existing problems of food waste and food insecurity that are exacerbated by the impacts of coronavirus and social movements," said DiGiovanni.
The group says that one of their biggest hurdles they face when cold calling is establishing credibility. However, they often let the numbers speak for themselves, as they have already delivered over 2.25 million pounds of produce, served 800,000 meals, and have paid out nearly $95,000 in employee wages.
In May, FarmLink rescued over 120,000 pounds of potatoes from Moses Lake, Washington and transported them to Washington Gorge Action Programs in Bingen, Washington, San Francisco-Marin Food Bank in California, and the town of Rehoboth, New Mexico, where they were distributed to members of the Navajo Nation.
O'Brien, an english major at Georgetown and FarmLink's Impact team, helps to amplify the voice of the project through various digital marketing strategies. Her team coordinates a weekly newsletter, which continues to help establish the charity's credibility by sharing updates on deliveries and how donations directly impact communities during this crisis.
"Taking time to listen to what others have to say has been so important to my role at FarmLink," said O'Brien. "Classes and professors I have had at Georgetown have always listened to us, and encouraged us to take the lead."
Adams believes FarmLink echoes the Jesuit values of the university, as these principles of "Men and Women for Others," have guided university students from across the United States to address the immediate needs of national communities.
"There is no better time than now to use what we have learned to attack these problems," said Adams. "It is empowering."
100 percent of donations to FarmLink are used to purchase produce and pay the wages of farmers and truckers. Although the nonprofit started as a response to the pandemic, FarmLink is working to address the needs of its constantly changing environment. The organization hopes to facilitate stronger connections between smaller, more local food suppliers and food pantries in more diverse parts of the country.
This article was originally published by the McDonough School of Business. Please follow the link to read the full story.