2017 Distinguished Associate Professor Awards
On occasion, department chairs, unit heads and deans identify and wish to recognize fast-rising associate professors who are notable for remarkable achievements in research and teaching at an early stage of their career. Providing a term-limited honorific title is one way to accomplish this goal.
---
The Provost Office is pleased to announce the 2017 Distinguished Associate Professors:
Calvin Newport
Department of Computer Science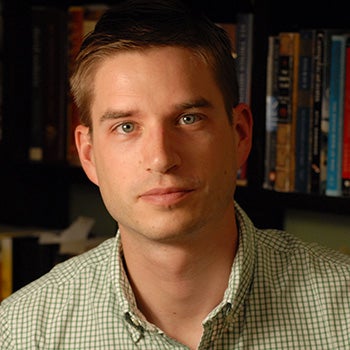 Cal Newport is an Associate Professor of Computer Science at Georgetown University. In addition to studying the theoretical foundations of our digital age, Newport also writes about the impact of these technologies on the world of work. His most recent book, Deep Work, argues that focus is the new I.Q. in the modern workplace and that the ability to concentrate without distraction is becoming increasingly valuable. He previously wrote So Good They Can't Ignore You, a book which debunks the long-held belief that "follow your passion" is good advice, and three popular books of unconventional advice for students.
Deep Work was a Wall Street Journal Business Bestseller, an Amazon Best Business Book selection for January 2016, and 800-CEO-READ's Best Business Book of the Week. Since publication, it received praise in the New York Times Book Review (new window), The Wall Street Journal (new window), The Economist (new window), and The Guardian (new window).
So Good They Can't Ignore You was listed as one of the business books of 2012 by Inc. Magazine (new window), The Globe and Mail (new window), and 800-CEO-Read (new window).
Daniel Shore
Department of English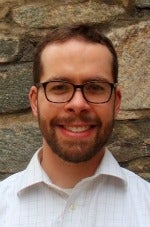 Daniel Shore is an associate professor of English, who specializes in the literature of the Renaissance and the humanist rhetorical tradition, with a focus on Milton and the 17th-century.
His second book project, Cyberformalism (under contract with Johns Hopkins UP), argues that full-text searchable archives make possible new objects of philological inquiry. It uses archives like Google Books and Early English Books Online, as well as corpus analysis tools like CQPweb and the BYU corpora, to trace the histories not of words or concepts but of linguistic forms. One part of Cyberformalism appeared as an article, "WWJD? The Genealogy of a Syntactic Form," in the Fall 2010 issue of Critical Inquiry; a second, "Shakespeare's Constructicon," and in the Summer 2015 issue of Shakespeare Quarterly; a third is slated to appear in Modern Philology as "Was it for this? Literary Influence in the Digital Archive and the Network."
Professor Shore is currently working to build "Six Degrees of Francis Bacon," a digital representation of the Early Modern Social Network. The project has been supported in the past by two Google Research Awards, a postdoctoral fellowship from the Council on Library and Information Resources, and grant funding from Carnegie Mellon and Georgetown Universities; it is currently funded by a National Endowment for the Humanities Digital Implementation Grant.
Additionally, he has performed preliminary work (conference papers and invited talks) towards a second Milton book, tentatively titled The Limits of Experience in the Age of Milton, which will argue that late seventeenth-century writers like Milton, Marvell, Cavendish, Spinoza, and Pascal engaged in a supple and imaginative form of what Kant later called "transcendental inquiry," exploring the subjective, material, affective, linguistic, and theological (rather than the merely subjective) conditions of the possibility of experience.
C. Christine Fair
Edmund A. Walsh School of Foreign Service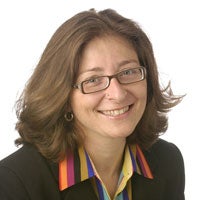 C. Christine Fair is a Provost's Distinguished Associate Professor in the Security Studies Program within Georgetown University's Edmund A. Walsh School of Foreign Service. She previously served as a senior political scientist with the RAND Corporation, a political officer with the United Nations Assistance Mission to Afghanistan in Kabul, and a senior research associate at USIP's Center for Conflict Analysis and Prevention.
She has served as a Senior Fellow at West Point's Combating Terrorism Center, a Senior Resident Fellow at the Institute of Defense Studies and Analysis (New Delhi) and will take up a Reagan-Fascell Democracy Fellowship in the spring of 2017.
Her research focuses on political and military affairs in South Asia (Afghanistan, Pakistan, India, Bangladesh, Sri Lanka). Her most recent book is Fighting to the End: The Pakistan Army's Way of War (Oxford University Press). Additionally, she has as authored, co-authored and co-edited several books, including Pakistan's Enduring Challenges (University of Pennsylvania Press, 2015), Policing Insurgencies: Cops as Counterinsurgents (Oxford University Press, 2014); Political Islam and Governance in Bangladesh (Routledge, 2010); Treading on Hallowed Ground: Counterinsurgency Operations in Sacred Spaces (Oxford University Press, 2008); The Madrassah Challenge: Militancy and Religious Education in Pakistan (USIP, 2008), and The Cuisines of the Axis of Evil and Other Irritating States (Globe Pequot, 2008), among others. Her current book project is Lashkar-e-Taiba: In its Own Words.
Dr. Fair is a frequent commentator in print (New York Times, Foreign Affairs, Foreign Policy, The National Review among others) as well on television and radio programs (CBS, BBC, Al Jazeera, CNN, Voice of America, Fox, Reuters, BBC, NPR, among others).
She is a member of the Council on Foreign Relations, Women in International Security, International Studies Association, American Political Science Association, and the American Institute of Pakistan Studies and serves on the editorial board numerous scholarly and policy-analytic journals. She resigned her membership with the International Institute of Strategic Studies to protest its consistent failure to address diversity issues.
She has a Ph.D. from the University of Chicago, Department of South Asian Languages and Civilization and an MA from the Harris School of Public Policy, also at the University of Chicago. She speaks and reads Hindu, Urdu and Punjabi.
Emanuela Del Gado
Department of Physics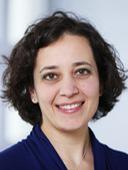 Emanuela Del Gado is a theoretical physicist working on engineering motivated problems. Sheuses statistical mechanics and computational physics to investigate materials with structural and dynamical complexity, from model amorphous solids, gels and glasses, to new green formulations of cement.
Prof. Del Gado received her undergraduate degree (Laurea in Physics, cum laude) at the University of Naples "Federico II" in Italy, where she also obtained a PhD in Physics in 2001. She has been a Marie Curie Fellow at the University of Montpellier II in France and a post-doctoral researcher at ETH Zurich in Switzerland, and hold visiting positions at ESPCI (France) and MIT. Before joining Georgetown University, Emanuela was the Swiss National Science Foundation professor in the Department of Civil Environmental and Geomatic Engineering at ETH Zurich.
Professor Del Gado's research interests are in the areas of statistical mechanics and computational physics; structure, cooperative dynamics and nonlinear mechanics of amorphous solids, gels and glasses; nanoscale structure and mechanics of cement gels; self-assembly of nanoparticles and fibrils at liquid interfaces; biomimetic coatings and mechanics of tissues.
Rebecca Ryan
Department of Psychology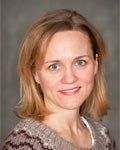 Rebecca Ryan is an Associate Professor in the Department of Psychology at Georgetown University. She came to Georgetown after completing a post-doctoral fellowship at the University of Chicago's Harris School of Public Policy Studies in Fall 2009. She earned a Ph.D. in Developmental Psychology from Columbia University in 2006. Her research explores the implications of the rise in nonmarital childbirth for children's well-being as well as the relationship between parenting and children's development in at-risk contexts. Both strains of research explore two fundamental influences on child well-being: the quality of parent-child interactions and parents' ability to invest time and money in children's environments. Her recent work explores variation in parenting practices by socioeconomic status, and over time. She is the principal investigator on the Russell Sage Foundation funded grant, Inequality in Parental Investments by Biological Vulnerability: Implications for the Socioeconomic Gap in Children's School Readiness. Her broad aim is to link developmental psychology to child and family policy in an effort to enrich both fields.